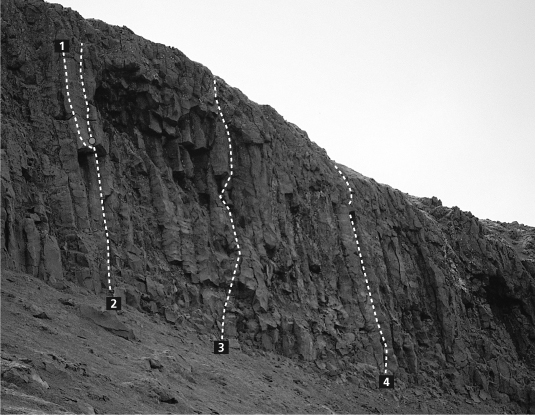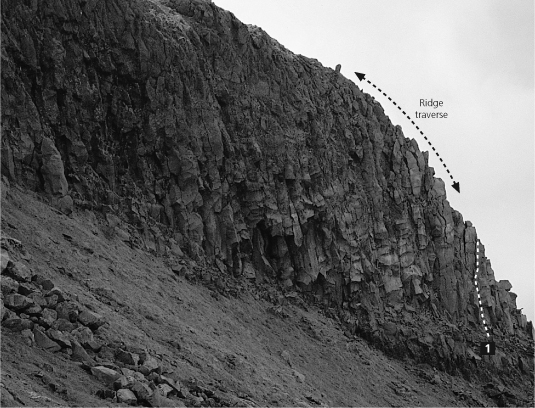 Reference
Title
Grade
Length
Quality
Bolts
Gone
Natural pro
Link to edit content
1
The Stoned Crows
19
35m

This is a more challenging variant of F.M. Start as for F.M. Belay just above overhang. This route then takes the arête about 2m to the left of F.M. Climb arête starting at the very lip of the overhang. Use crack to your left for protection only. A necky route but fine climbing.

Lionel Clay, Richard Kirk, 06/03/85.

2
F.M.
20
40m

Climb the large crack in the right facing corner to the overhangs. Move slightly left and climb a shallow groove through the overhangs (crux) then out to the top.

Kevin Conaglen, Nick Banks, 28/11/81.

3
Jeckyl and Hide
22
45m

Located just up from broken area at bottom end of cliff. Climb crack, smearing on tiny nubbins to small, mossy ledge at 25m. Belay from cracks at left and small cams under flake. Climb up and over small roof, undercling, then dyno for high hold. Bridge to finish.

Kevin Conaglen, Chris Prudden. 18/2/00

4
Fang
22
40m

A deep vee with a 'fang' like spike protruding from the top of the groove.

Kevin Conaglen, Dave Bolger, 15/01/00.

1
Los Calzones
12
12m

Big crack at the very bottom end of Warwick Castle.

Kevin Conaglen, Nigel Shepherd, 18/04/82.
UUID:
115e6fa7-c200-44b7-a420-f7d04e699136