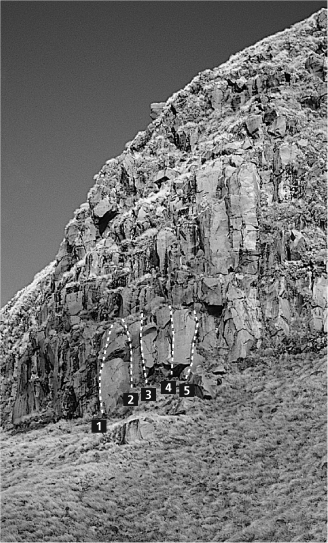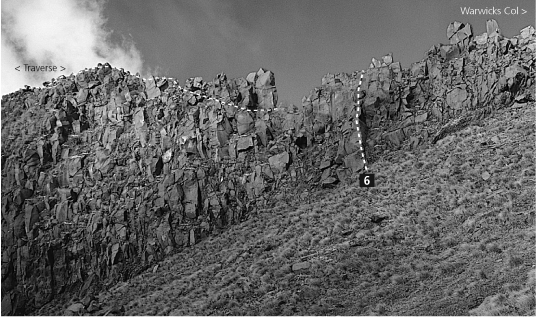 Reference
Title
Grade
Length
Quality
Bolts
Gone
Natural pro
Link to edit content
1
Typhoon
19
10m

The prominent arête.

Kevin Conaglen, Dave Bolger, 10/01/93.

2
Poseidon
12
10m

Climb the crack right of Typhoon.

Kevin Conaglen (solo), 20/12/92.

3
Geras
16
10m

Climb the right-hand crack over the block and exit left.

Kevin Conaglen, Greg Larkin, 10/01/93.

4
Nemesis
12
10m

The right facing corner in the wide square shaped groove.

Kevin Conaglen.

5
Flashirt
16
10m

Left facing corner to the right of Nemesis.

Ross Eden, Kevin Conaglen, 14/12/97.

England Layback
16
7m

Has a layback at the top

Kevin Conaglen, Gareth Sharp, 20/11/93.

Meko
17
7m

Climb overhang to offwidth crack

Kevin Conaglen, Ross Hoffman, 28/11/93.

6
Triceratops Alec
14
30m

Near the upper end of Warwick Castle. Directly opposite This One' s a Twenty Two Too Chris. Start at the bottom of a sharp buttress and move up over the large steps to the top.

Kevin Conaglen, Dave Bolger.
UUID:
0c4eca8d-e7a2-4a85-bd62-5b01b8c374fb