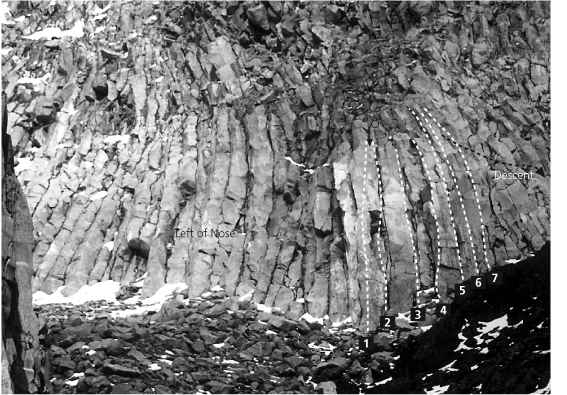 Reference
Title
Grade
Length
Quality
Bolts
Gone
Natural pro
Link to edit content
1
Jonathan Livingston Steelfingers
21
17m

The Nose of the Organ Pipes, between Left Nostril and Right Nostril. Starts from dead centre of the arête. Classic face route on superb rock with crux near the top—the site of a now-chopped bolt. Lionel Clay chopped the bolt because the route was still being tried with clean protection by himself, Richard Kirk and Phil Roberts. Lionel claims the first 'boltless' ascent (with rehearsal). This route was presented as a 'last unsolved problem' in the previous edition of the guide and it required 'someone with steel fingers and nerves. The full name comes from an article by Peter Livesey published in the 1980s in a British magazine.

M Brown, Chris Morris, 02/03/85.

2
Right Nostril
14
19m

Obvious wide crack on right side of the Nose, with a variation possible up till half height.

Unknown, Pre 1982.

3
Dog Shit
14
19m

Crack right of Right Nostril. Climb crack direct to top.

Kevin Conaglen, Andy Harris, 03/82.

4
Lionel's Edge
21
17m

The arête to the left of Kia Kaha. Limited but good protection. A quick and well-anchored belayer helps to prevent ground falls from the crux mid-height.

Lionel Clay, 01/03/86

5
Kia Kaha
18
17m

Left of Ratshit and right of the bolt. Climb the crack using protection in the horizontal crack. To the left and on the arête to the right to start with. Then finger lock up the crack using Stoppers #7 and 8 and Friends #1, 1.5 and 2 further up. Mantleshelf onto ledge to belay. Descent: either abseil off block (difficulty in retrieving rope if no sling) or exit off left to Nose. Route was put up by members of the Wellington Women's Climbing Group.

J Perkins, S Lamont, 23/02/86.

6
Rat Shit
19
19m

Two cracks right of Dog Shit. Harder just at the top.

Andy Harris, Kevin Conaglen, 03/82.

7
Eliminator
17
15m

Thin crack to the right of Ratshit which is cleaned. Wired Rock No.7 handy in crack. Climb the face to the right to reach the jugs.

Dave Bolger, Ross Hoffman, 30/04/92.

Crest Route
WI5

Just right of Right Nostril a steep smear forms down a slab. Follow this upwards to the crest then stay as close to the crest as possible. A steep pull through a short overhanging slot at mid-height provides the technical interest, rock protection available.

Iain Young, Greg Banks, 1995.

Alpine Cowboy
WI4

To the left of Lionels Edge. A thin smear of ice forms during good seasons. Moderate dry tooling required.

Dave Bolger, Greg Larkin, 1994.
UUID:
a0210a7a-5cb8-4188-959a-6ce93575e844