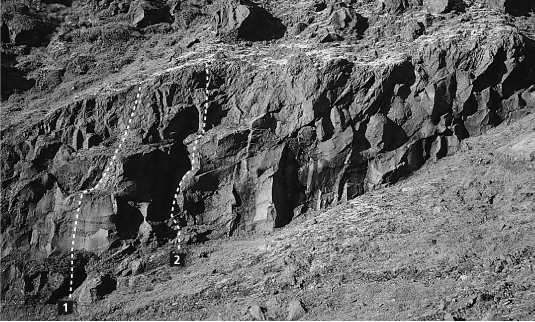 Reference
Title
Grade
Length
Quality
Bolts
Gone
Natural pro
Link to edit content
1
Shaft of Sunlight
17
18m

Left of Mad Dogs And Englishmen. Follow hangers and bolts to the top. There are two large resting ledges.

Kevin Conaglen, Dave Bolger, 21/01/95.

2
Mad Dogs and Englishmen
15
16m

Start on flat ledge below a vee groove. Climb groove onto another ledge. Then mantleshelf onto a third and climb right wall above to the top. On first ascent the last wall was top roped. Not a recommended route, since little protection, satisfaction or pleasure.

Pete Swanson, Ross Eden, 1979.
UUID:
ea430215-0d55-4646-b870-0849c7980103