The Top Rocks have a number of quality short climbs of varying difficulty and some testing boulder problems. Please stay on the reserve side of any fences and respect residents' privacy.
Boulder Problems
Goliath, Start left of Creaky Tree, traverse right, keeping low, to BOG and ascend.
Creaky Tree, Climb up to bolt.
The Spit, Traverse left from Lop to finish just past Old Man Of Hoy.
Sloping Shinney, Traverse left to fi nish past Epiphyte Massacre.
Bob, Ascend the overhanging arete just left of Bob.
Old Man of Hoy, Climb to first bolt.
Also, the boulders near the entrance track offer various short problems.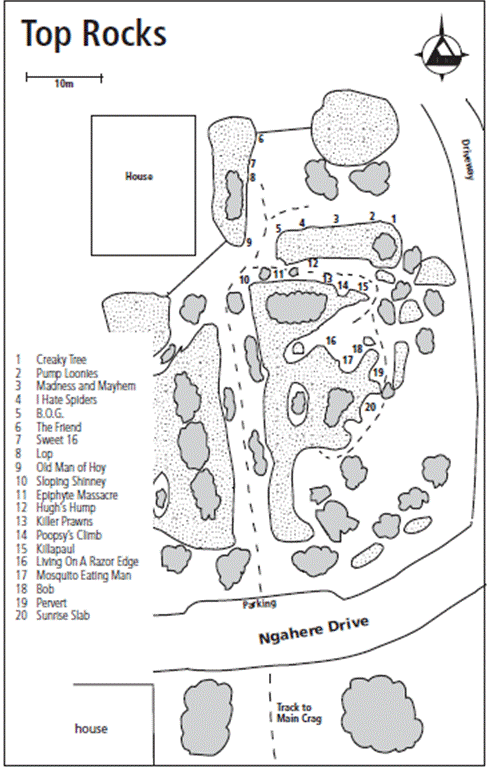 Reference
Title
Grade
Length
Quality
Bolts
Gone
Natural pro
Link to edit content
Sunshine Daydream
23

Sam Russek, 2012

1
Creaky Tree
21
8m
1

The rounded arete with one hangerless bolt. Crux is getting off the ground. Tree belay.

Paul Hersey, 1992

2
Pump Loonies
21
8m
1

Just right of Creaky Tree. Originally soloed, but a bolt was later put in for sanity reasons. Fingery.

Paul Hersey, 1993

3
Madness and Mayhem
22
8m
2

Technical and sustained moves past 2 bolts and over a bulge. Belay chain.

Hugh Nicholson, Paul Hersey, 1993

4
I Hate Spiders
14
5m

A shallow scoop at the right-hand end of the same face. More of a boulder problem, but listed because it is an easy access route.

5
B O G
15
5m

The bulgy arete with no protection. Has a good sequence of heel hooks to avoid any dynos. Usually started with butt on ground (B O G).

6
The Friend
14
6m

Starts next to the fence, climb past a horizontal break and shallow vertical grooves to the ledge. Chain belay.

7
Sweet 16
15
6m

Obvious crack left of The Friend. Natural protection. Finishes at same ledge.

8
Lop
16
6m
1

Good footwork needed to get to and past single bolt, and onto the ledge. Tough if you're short.

Gavin Harrison, 1988

9
Old Man of Hoy
22
9m
2

The rounded arete with two bolts. Small but positive holds. Belay/abseil chain.

Richard Dale, Paul Hersey, 1994

10
Sloping Shinney
14
4m

A slabby boulder problem, just right of the tree. Top-rope bolt.

11
Epiphyte Massacre
16
5m

Just left of the tree on the same slab. Nut placements if needed, step right at top to find belay bolt.

Hamish Pirie, 1996

12
Hugh's Hump
15
8m
2

Hugh loved this grubby bridging problem so much he soloed it. Since had two bolts and belay chain added. Hump up both walls to gain the top.

Nga Madness
17

Sam Russek, 2012

13
Killer Prawns
14
7m

The shallow groove with natural protection and an abseil chain.

14
Poopsy's Climb
17
8m
3

Just left of Killer Prawns, climb the wee edge-arete thingee with 3 bolts (one without hanger). Use Killer Prawns abseil chain.

Simon Bruce, 1996

15
Killapaul
23
7m
2

Start as for Poopsy's Climb, but swing left up the prominent overhanging arete. First ascent involved a groin hold at the crux, so could be a good idea to pre-clip the bolt. Finishes at the second bolt. Pretty pumpy.

Paul Hersey, 1996

16
Living on a Razor Edge
20
8m
2

Layback the wide crack to gain the rounded arete. Climb past 2 bolts, sliding left to a shallow ledge. Threaded sling for pro, then straight up the vertical grooves. Tree belay well back.

Paul Hersey 1996

Bro Cracked It Bro
24

17
Mosquito Eating Man
14
8m

Just left of Living On A Razor Edge, bridge up past bulbous ledge to chain belay. Use the same threaded sling as previous climb for pro.

18
Bob
15
9m

Left of Mosquito Eating Man, step off the small rock, and follow shallow grooves up arete to same belay point. Natural protection (hexes and nuts).

19
Pervert
14
8m

Starts on the opposite side of the arete, bridge up groove to arete and finish as same for Bob. Nut placements near top.

20
Sunrise Slab
15
5m

A couple of solo/toprope options on this slab to reach the ledge. Belay bolt.
UUID:
6ade9a17-5adf-48a2-9d0c-3765eaddd9f9