The Main Crag has climbs as high as 30m, with a great airy feel on the main face. Descent is by abseil, lower or walk off .
Bouldering:
Starlight Wall, Traverse low down from Mighty Twenty Footer to finish opposite Crinkle Slab.
The Lay Back, Low-level traverse.
Crinkle Slab, Boulder/solo up either arete.
Mosquitos On Steriods, Climb to the ledge.
Waves of Motion, Traverse from the left arete to finish on the block past I Don't Want A Job.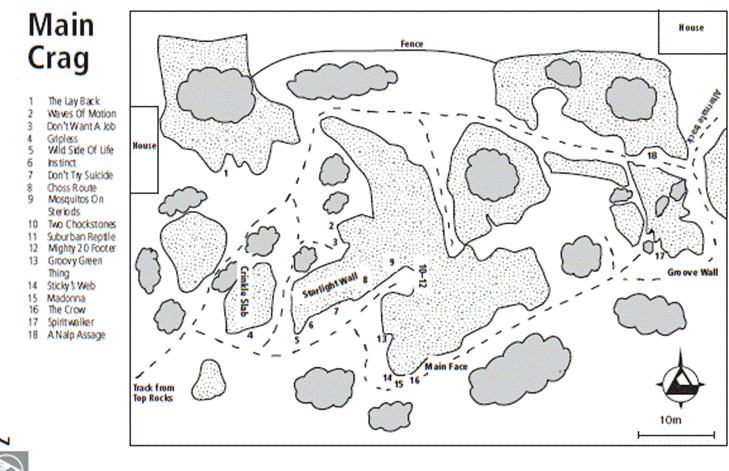 Reference
Title
Grade
Length
Quality
Bolts
Gone
Natural pro
Link to edit content
1
The Lay Back
15
8m

The obvious layback crack at the right-hand end of the block. Right beside a house, possibly inside the property line (homeowner has installed a small fence blocking access to the base of the climb). Please do not climb this until access rights can be verified and owners permission granted.

2
Waves of Motion
19
9m
2

Up the middle of the laid back face, past two bolts to chain belay.

Paul Hersey 1996

3
I Don't Want a Job
24
9m
1

The steep arete just right of Waves Of Motion, with two bolts. A fine sequence of moves with an undercling rest past the second bolt. Optional natural pro near the top, but all the hard stuff is at the start. First bolt is usually pre-clipped, belay bolt at top.

Paul Hersey 1996

4
Gripless
16
9m
1

The groovy slab (Crinkle Slab) is climbed direct, without using either arete. One bolt, and tree belay.

Hamish Pirie 1996

5
Wild Side of Life
16
10m

Just down from Crinkle Slab is the Starlight Wall. On the corner is a slab capped by a wide crack and arete. Natural pro and belay bolt.

6
Instinct
15
10m

Further right is a wide crack to a ledge. Exit right to top. Belay bolt.

7
Don't Try Suicide
15
10m

The left slanting crack in the middle of the wall. Same finish as for previous climb. Natural pro.

8
Choss Route
15
10m

A series of broken ledges and cracks, with some loose blocks. Not a classic. Belay bolt.

9
Mosquitos on Steroids
16
25m
1

Starts up the obvious layback by the huge hanging vine. Move over loose blocks to ledge, continue up angled face past one bolt to chain belay. Plenty of natural pro where needed.

Hamish Pirie, 1996

10
Two Chockstones
15
25m

Just right of Mosquitos On Steroids, the off width with 2 large blocks. Natural pro.

11
Suburban Reptile
17
20m
4

Opposite Mosquitos On Steroids, bridge up rounded groove (optional gear) then past 2 bolts, left to horizontal break. Straight up face above past two more bolts to anchor/lower-off. All bolts have been replaced with modern hardware.

Hamish Pirie, 1996

12
Mighty Twenty Footer
15
25m
1

Start as for Suburban Reptile, but at the first bolt traverse right to ledge and around corner. Climb straight up past the main line of weakness and horizontal breaks to top anchor (lower off). The bolts on Guidebook can be clipped for protection, but for the original value, this should be trad climbed.

Guidebook
18
25m
4

Start just right of Suburban Reptile, and move right to the arete (bolt). DIrectly up (crux) to ledge, then directly up the face following bolts. Lower off.

Shaun Brown

13
Groovy Green Thing
17
30m
2

Downhill from Starlight Wall is this strange and committing climb on an otherwise blank face. Easy ground leads to a right slanting crack and two bolts. Ascend with increasing difficulty (leave the next bolt on the right) till 2 bolts close together are reached. Move onto arete with nice moves past another bolt and peg. Belay chain.

Paul Hersey, Richard Dale 1994

14
Sticky's Web
19
30m
3

The steep arete downhill from previous climb. Climb past 2 bolts on the right of arete, move left at second bolt to knee bar and threaded sling. A long sling at the poorly situated third bolt around corner will reduce rope drag. Finish up the arete as for Groovy Green Thing.

Richard Dale, Paul Hersey 1994

15
Madonna
17
30m
2

Gain the large ledge just right of Sticky's Web, either by sidling in from the left or climbing the layback crack direct. Tend slightly right and up to a large crack. Ascend this, step left to the bolt, then finish up the arete as for previous 2 routes. Natural pro (nuts and friends), bolts and pegs.

Gavin Cox, 1988

16
The Crow
22
30m
8

This is an airy sustained climb with crux moves near the top. Gain the same ledge as for Madonna, but tend right (steep climbing) past two bolts to a large vertical crack. Follow this till a balancy step can be made left . Hardish face moves lead up to and through a bulge to the top. 7 or 8 bolts and belay chain.

Paul Hersey, 1995

17
Spiritwalker
17
35m

A large steep crack (by a tree) leads to a slab top-out. Crux is moving from the crack to the slab. Heaps of natural pro through the whole route. Tree belay/abseil. Pleasant line that will improve with traffic.

Paul Hersey, Hamish Pirie, 1996

Deeply Superficial
16
20m
2

The crack immediately right of Spiritwalker. Crux is gaining the scoop. Bolts and natural pro.

Chris North, Guy White, 1996

That'll Do
19
15m
1

Starts on top of the block left of Spiritwalker. Follow cracks up (natural pro) to overhang (bolt). Pull over into scoop (crux), then up the ramp to finish up sharp left -hand arete. Chain belay.

Guy White, Chris North, 1996

18
A Nalp Assage
14
6m

Short bridging route done to get to the top of the Groove Wall. No pro.
UUID:
7289b196-64a8-45ac-bae4-ccdc480643c9