The first wall you come to. Visible from the road.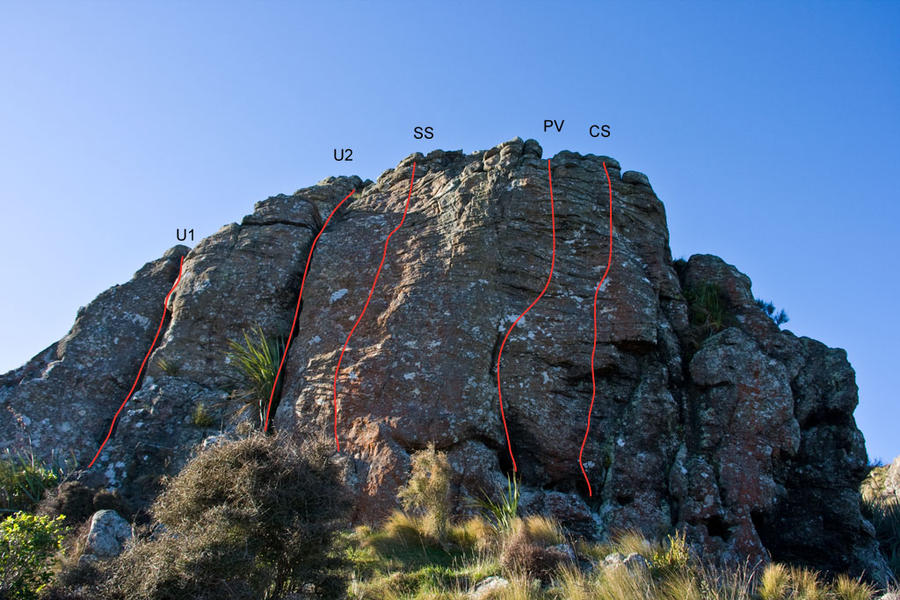 Reference
Title
Grade
Length
Quality
Bolts
Gone
Natural pro
Link to edit content
U1
Ugly 1
13

The first obvious crack on the small left hand crag, visible from the stile.

Stu Allan, 1972

U2
Ugly 2
16

The second crack, offwidth.

Stu Allan, 1972

SS
Susie's Slab
19
7m
1

A classic two move wonder with bolt protection on upper part. The red wall right of the Uglies. Proceed directly up the wall to mantleshelf onto large hold, clip bolt, then climb up slightly right on small holds to easier ground. 2-ring anchor. Technically only 19, but gets one grade for the unprotected moves to the bolt. You can arrange a side runner, which whilst it won't keep you off the deck, will mean you hit feet first (as opposed to head first) if you fail on the upper mantle.

Merv English, 1983

Pumping Susie
23
7m
2

Delicate face climbing, moving left from the first bolt of Pumping Velvet. Alternatively, start below the small shelf just above head height and mantle onto it, thread the hangerless bolt, then trend left up the thin face. Either step right and clip the top bolt of pumping velvet (hard!) then trend left again, or (easier!) continue leftwards towards the finish of Susie's Slab, with the option of reaching left to clip Susie's bolt. Shares the two-ring anchor of Susie's Slab.

Marcus Thomas, 2003

PV
Pumping Velvet
23
7m
2
2
1

Starts up a slight crack right of Susie's Slab. Hard layaways lead to a long reach out right to a (relative) jug, continue up to next bolt. Either step about a metre right then follow the crimpers trending back left to the top, or continue directly up from the 2nd bolt (harder). A really good route. Formerly shared an anchor with Susie's Slab, but now has its own two-bolt anchor.

Ton Snelder, 1984

CS
Cheap Shoes Don't Kill
24
1

Climb direct over the rooflet right of Pumping Velvet. Tie your belayer down to the left so the wire at the break protects the move. No reaching into the gully.

Tony Ward-Holmes

Neophyte
13
10m

The black chimney. Hardly catholic.
UUID:
49fb565f-3262-48cb-8ef0-212e5cc2a782