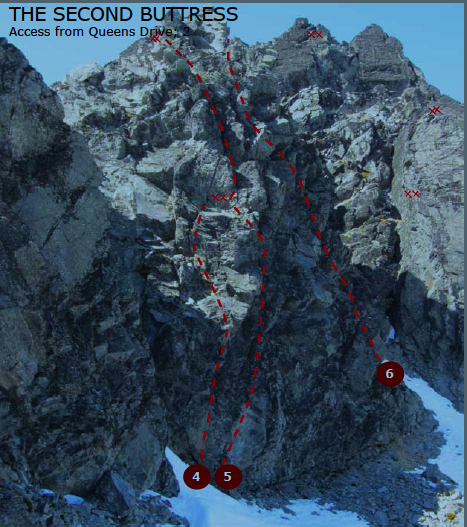 Reference
Title
Grade
Length
Quality
Bolts
Gone
Natural pro
Link to edit content
4
Not So Fortunate
M5
25m

Steep crack with committing moves to DB belay LHS of buttress.

Daniel Joll, Steve Fortune, 2012

5
Force It
M4, M3
50m

2 pitches.

#
Ewbank
Alpine (Technical)
Alpine (Commitment)
Alpine (Mt Cook)
Aid
Water Ice
Mixed
Boulder (Hueco)
Length
Bolts
Trad
1
M4
25

m

No

Climb right facing corner, tending left after half
height. Double bolt belay

2
M3
25

m

No

Second pitch runs to the top of the buttress and a further double bolt belay

Daniel Joll, Steve Fortune, 2012

7
Ari-an Supremacy
M4

'Ari-an Supremacy takes the obvious gully about 7metres to the right of 'Force It'. I believe it now has a bolted anchor just to the right of the first major chimney section. It's best climbed as a trad route, going through two chimneys to pop out onto a large belay ledge about 30 metres up. Beyond there, Ari-an Supremacy traverses the ledge, turning a block, and climbing a small arete to eventually top out on the ridge. While the second pitch is fairly easy, there's not a great deal of pro. All in all, I'd say it's closer to 60-70m all the way to the top.'

Ari Kingan, Peter Harris, August 2013

7b
Ari-an Retreat
M4
60m

a direct finish from the start of the second pitch of Arian Supremacy; Above the belay ledge at 30 metres, the route heads directly for a roof with 'awesome hooks,' and then towards 'easier ground' on snow to the double bolt belay.

Jono Clarke, Frazer Attrill, August 2013

6
Sam I Am
M6
25m

The steep roof crack between Force It, and Arian Supremacy. Pumpy moves lead up through the cracks and left to the belay of the first pitch of Force It

FWA Jono Clarke

8
Learning to Lead
M3, M3
45m
1

The double bolt belay was installed by Jono Clarke by traversing in from the gully. He then cleaned all the loose rock off pitch one and left the route for someone else to claim. During the 2015 Ice and Mixed Festival Daniel Joll told us to climb the first pitch for the learning to lead clinic, and I fell off at the crux before getting up on the second try. We went back a few days later to climb both pitches. Dan reckons the protection is good, but as a novice trad-climber, I didn't find many good placements for pro.

#
Ewbank
Alpine (Technical)
Alpine (Commitment)
Alpine (Mt Cook)
Aid
Water Ice
Mixed
Boulder (Hueco)
Length
Bolts
Trad
1
M3
20

m

Yes

The right most crack and corner on the first buttress. Climb the corner on good protection to a double bolt belay.

2
M3
25

m

Yes

From the double bolt belay head up via a right facing corner to the top of the buttress. Belay from the ridge

Jin Cong, Gabriela Scheufele, August 2015

9
Lovely Gully
M3
35m

Follow Gully tending right for 8m, through right facing corner. Belay in small alcove, DB Belay, or exit right to ridge -Joll. Left hand exit via wide crack (M4 variation) -Addis & Scott.

Daniel Joll solo, 2012
Attribution:
Material from "REMARKABLES ICE & MIXED FESTIVAL ICE & MIXED GUIDE," 2012.
UUID:
63562944-682b-4f8c-a548-ff17c259df02