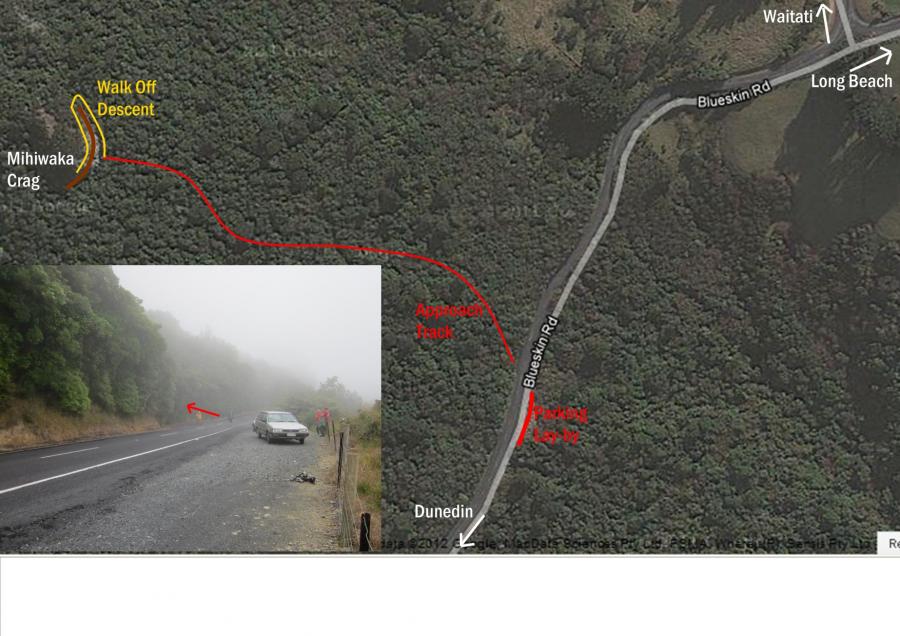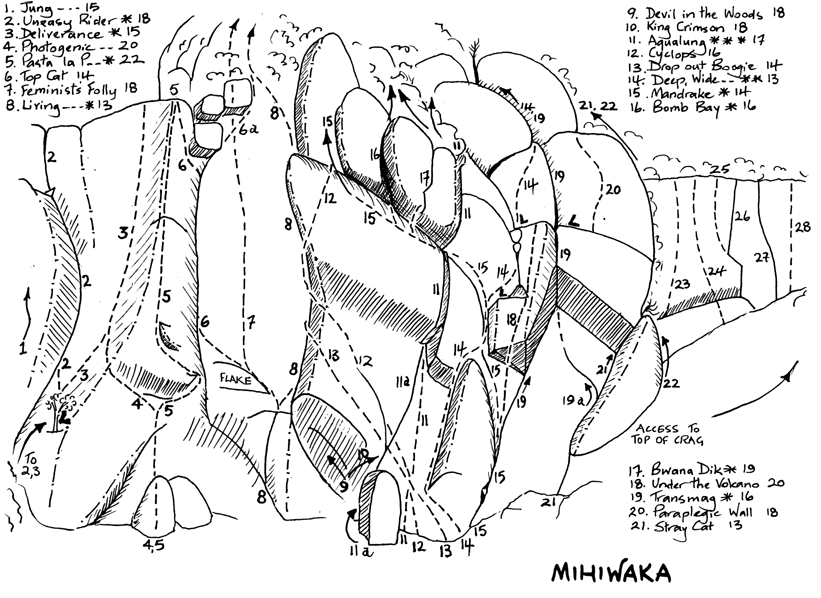 Reference
Title
Grade
Length
Quality
Bolts
Gone
Natural pro
Link to edit content
1
Jung and the Restless
15
30m

Arete on the far L of the cliff. Finish on L angled crack.

Brian Fish, 1972.

2
Uneasy Rider
18
30m

Great bridging up to the welcome mega-jug. Start at the prominent R facing corner - best belay is at the broadleaf tree 4m above ground level. Pro is a bit sparse at the crux - take small wires.

Rick McGregor, 1975.

3
Deliverance
15
30m

From the broadleaf tree, move up the wall diagonally R and finish just left of the arete. Good pro higher up in the interesting creases. Has a direct start at about 17 just left of the real steep country of Photogenic Doubt and Pasta la Pizza.

Geoff Gabites, 1972.

4
Photogenic Doubt
20
10m

From the pedestal between Deliverance and Top Cat, and just to the R of a deep R facing diagonal corner crack, climb the slightly overhanging wall to the horizontal break under the roof (good pro here), then traverse L to rib (runout) and finish up Deliverance.

Rick McGregor, 1979.

5
Pasta la Pizza
22
30m

Steep, technical and serious – the cowardly first ascentionist didn't lead this until he had it fully wired on top-rope. Great climbing – top-rope it if you don't want to stick your neck out. Climb Photogenic Doubt to horizontal break, then traverse R. Resisting the overwhelming desire to escape into Top Cat, head L into the ear above the overhang - don't fall off now! Excellent pro for the rest of the route direct up the steep prow.

Dave Brash, 1998.

6
Top Cat
14
30m

Start up Living in the Past, then move L into R facing corner. Finish at the top of Deliverance (original finish), or move R under the block to join the top of LITP (6a) at about grade 15.

Murray Jones, 1973.

7
Feminist's Folly
18
15m

The eliminate up the wall between Top Cat and Living in the Past finishes direct up the prominent nose.

Calum Hudson, 1978.

8
Living in the Past
13

The second route on the crag. The full-on climbing through the bulge onto the big ledge relents to a nice bridging corner. Step L when the corner fades out and scramble a further 8m to belay from manukas. The corner is a drainage line which can take some time to dry out after rain.

Calum Hudson, 1972.

9
Devil in the Woods
18
9m

From the block, up short mossy leaning crack to nervously hand traverse L on overhanging ground to Living in the Past.

Murray Judge, 1972.

10
King Crimson
18
8m

Calum's comment – 'Is this contrived or what? Can't actually have any climbing of its own !!' Start as for the Devil in the Woods, then move R across to Aqualung.

Rick McGregor, 1975.

11
Aqualung
17
30m
2

Arguably the climb of the crag - consistently good climbing to the adrenaline-inducing (though well-protected) crux. The original start goes Comici-style direct to the base of the hanging corner above the Mandrake ramp. A nice alternative is diagonally up R (11a) from the top of the big detached block. After arranging your runners and your head, launch out into the exposed hanging corner above the roof – it's not all over once you get into it.

Calum Hudson, 1973.

12
Cyclops
16
30m

Could be quite good – I can't remember. This route starts similar to Aqualung, trends L and up wall through diagonal slot under L end of roofs beneath Mandrake (crux) to join Living in the Past, then step R up steep head wall onto ledge of Mandrake to share its finish.

Calum Hudson, 1973.

13
Drop out Boogie
14
30m

Across face from Deep Wide and Frequent to Living in the Past.

Calum Hudson, 1972 (solo).

14
Deep Wide and Frequent
13
30m
1

A grade 13 that overhangs for 20 metres? An excellent adventure for the grade. Originally started further L, the best start is up the wide crack past the chockstone (as for Mandrake). For the two stars (and better pro), climb diagonally R up the upper wall to finish as for Transmag. Watch out for rope drag on this wandering excursion.

Bruce Clarke, 1972.

15
Mandrake
15
40m
1

Hudson – 'A superlative route !!! My favourite anyway'. Best split into 2 pitches. The left diagonal ramp slashes the main wall at mid height and provides access to the great roof climbs of Aqualung, Bwana Dik, and Bomb Bay.

Calum Hudson, 1972.

16
Bomb Bay
16
10m

The fearsome flaring slot is in a brilliant position. From the Mandrake ramp, climb with trepidation through the top roof with wide crack and jugs.

Calum Hudson, 1974.

17
Bwana Dik
19
10m

The groove through the roof between Bomb Bay and Aqualung starts from Mandrake ramp. Protect in Bomb Bay, then go for it, a little boldness is required.

Calum Hudson, 1978.

18
Under the Volcano
20
20m

Eliminate through bulges between Deep Wide and Frequent and Transmag.

Luke Newnham, 1984.

19
Transmagnificantupantransiality
16,13
30m
1

You could do this route in one pitch, but then you'd miss out on the great belay ledge. Pitch1 (16) - Start from Deep Wide and Frequent (better) or Stray Cat (19a). Sustained climbing up to and through roof (crux) to a commodious belay ledge.

#
Ewbank
Alpine (Technical)
Alpine (Commitment)
Alpine (Mt Cook)
Aid
Water Ice
Mixed
Boulder (Hueco)
Length
Bolts
Trad
1
16
30

m

Yes

You could do this route in one pitch, but then you'd miss out on the great belay ledge.
Pitch1 (16) - Start from Deep Wide and Frequent (better) or Stray Cat (19a). Sustained climbing up to and through roof (crux) to a commodious belay ledge.

2
13
0

m

Yes

Pitch 2 (13) - Steep start to the easy L leaning ramp.

Calum Hudson, 1972.

20
Paraplegic Wall
18
10m

Well, the pro doesn't look too bad to me, but let's call it marginal. Climb the wall above Transmag ledge.

Calum Hudson, 1977.

21
Stray Cat
13
28m

Follow crack out R of Transmag roof to a few steep wall moves (crux), and a botanical finish.

Neal Whiston, 1972.

22
Old Fashioned Way
10

From here, the routes are mostly damp and heavily mossed up, and are recorded mainly as a historical service.

Calum Hudson 1977 (solo)

23
Roots, Shoots and Leaves
16

Brian Fish,1978.

24
Furga Burga Wall
20

'An excellent, technical, overhanging wall route – worth a star' - Hudson.

Brian Fish, 1978.

25
Tarby's Wall
14

Rob Turner, 1973.

26
Grown So Ugly
15

Calum Hudson, 1973.

27
Elvis Presley Memorial Crack

Calum Hudson, 1973.

28
Mosse Fosse
13

Calum Hudson, 1973.

Fido Meets Lady Jane
18

A 70's crag would be incomplete without girdle traverses, so here they are. The high traverse is - Traverses the wall beneath Mandrake between the roofs, down climbs the headwall of Cyclops, traverses the nose of Feminists Folly, crosses the top of Deliverance, hand traverses L and up the finishing corner of Uneasy Rider!!

Calum Hudson, 1977.

Brown Shoes Don't Make It
16

And the low girdle – Climb Mandrake to the ledge above the chockstone at 5m; traverse L, crossing Top Cat at the big flake to join Deliverance at the lower exposed section before crossing slab and groove to Jung and the Restless.

Calum Hudson, 1977
Attribution:
Dave Brash. Plus the following people supplied route information and/or read drafts: Calum Hudson, Steve Carr, Murray Judge, Marcus Thomas, Kevin Donoghue, Mike Simpson, Andy MacDonald, Simon Cox, Al Mark, Andy Milne, Bob Cunninghame and Laurie Kennedy.
UUID:
f799031d-3e83-41ee-8ccb-588739fbd5c5