The Pinnacle in front of the Main Wall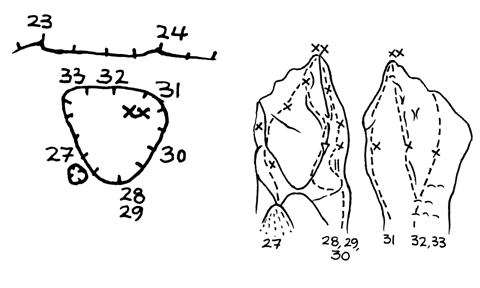 Reference
Title
Grade
Length
Quality
Bolts
Gone
Natural pro
Link to edit content
27
Day of the Triffids
16
8m
1

Interesting, well protected - do it. Starting from the ferny rock at the front RH corner of the Stronghold, traverse L along the sloping ledge and clip 2 bolts before swinging out onto the solid slab above.

Steve Carr, 1997

30
Homecoming Queen
22
7m

A sustained, popular problem up the steep north face.

Julian Melton, 1997.

28
Sloth
17
7m

L along the ledge and out onto face. Up arete to horizontal placement. Move L to bolt and up.

Steve Carr, 1997.

29
Contaminant
17
7m

Continue up R from nut placement on Sloth and past bolt.

Steve Carr, 1997.

31
Fools Gold
14
6m
1

Follow arete after bridging across gap.

Steve Carr, 1997.

32
Spinal Tap
18
6m
1

Up the centre. Contrived, but nevertheless a bit scary.

Steve Carr, 1997.

33
Bridge to Nowhere
15
6m
1

Bridge up to ledges and bolt.

Dave Blair, 1997.
UUID:
a91e78e4-ebae-4420-aa0a-1a66542832fb