Good climbing in the Jumping Jellyfish area is often unfairly ignored due to its dark aspect. The remainder of the backside has little to recommend it. Bob Cunninghame and others ventured onto the backside in the 60's to climb some of the lines. Bob writes, '…they were fairly awful – sandy and loose rock. Seem to remember protection was dubious or non existent!' The first seven climbs are serviced by a DBB at the apex of the pinnacle, up and left of the manky gully, which sounds suspiciously similar to Bob's description – don't climb this!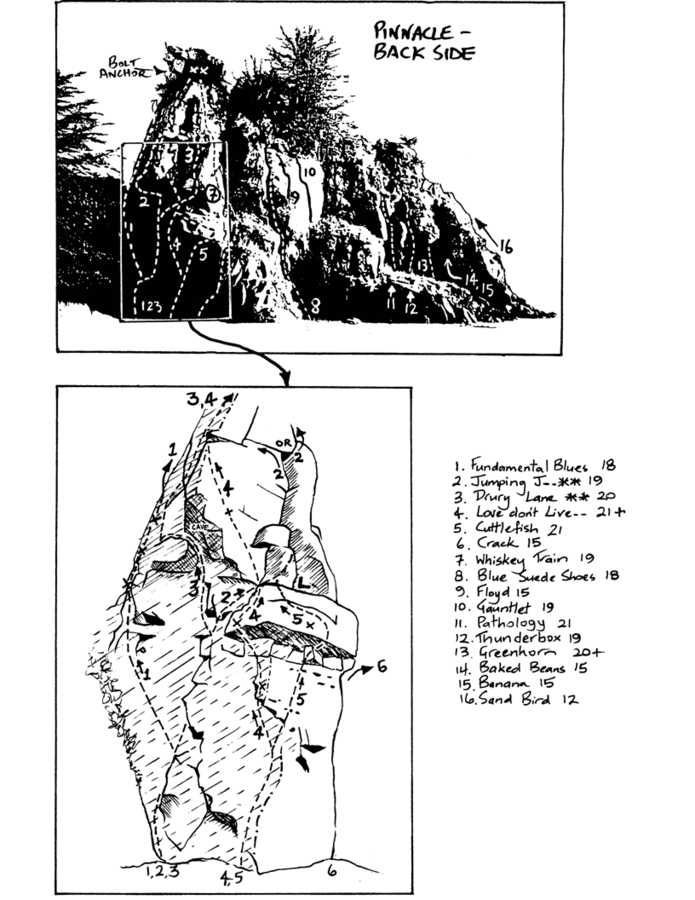 Reference
Title
Grade
Length
Quality
Bolts
Gone
Natural pro
Link to edit content
1
Fundamental Blues
18
20m
9

Cleaned and retrobolted in 2021. Start up Drury Lane and traverse diagonally L on new bolts and up into the groove. Straight up the wall to a new belay on Tombstone Arete.

Craig Hilton, 1986.

2
Jumping Jellyfish
19
19m

Up the flakes and thin cracks to handjam then step R into the prominent corner. The first ascent was carried out in sandshoes and without the benefit of the jam crack (later cleaned).

Murray Judge, 1972.

3
Drury Lane
20
22m

Superb. Start up Jumping Jellyfish and climb into the cave. Cut loose on the hand traverse out to the L (2.5 friend in the break, well tested by Jeremy in a 12m screamer) to mantle and finish up the headwall.

Graham Love, 1985.

4
Love Don't Live Here Anymore
21
22m
3

Incorporates the nice boulder problem start up the pocketed wall. Direct through overlap and to Jumping Jellyfish ledge, then diagonally out L to the arete past another bolt, and finish up Drury Lane.

Al Mark, 1986.

5
Cuttlefish
21
8m
3

Graded 19 in the 1987 handbook. Clip the bolt, then frantically hand traverse L until you can gain the Jumping Jellyfish ledge.

Al Mark, 1985.

6
The short crack
15

7
Whiskey Train
19
14m

The diagonal crack splits the L wall of the disintegrating block. A large block was removed off a ledge mid way up the climb in 2021 and two bolts were added in its place. Adequate pro.

Graham Love, 1984.

8
Blue Suede Shoes
18
15m

Not too bad, surprisingly enough. The middle section is quite interesting and well protected. The crack R of crumbling gully.

Graham Love, 1984.

9
Floyd
15
15m
5
2

Crack on L of Gauntlet wall. Recently cleaned and retrobolted from beach level. A ring belay has been placed at the top of Gauntlet so head right at the top of the crack.

Steve Philip 1984.

10
Gauntlet
19
8m
6
2

The thin crack in the centre right of the brown wall has been retrobolted. Previously it was unprotectable.

Graham Love, 1983.

11
Pathology
21
8m

Bulge to face to V corner, all in about 6m. Packs a lot of punch for a short climb – I actually like it. Possibly adequate pro - you be the judge.

Graham Love, 1983.

Orifice
22
8m
1

A contrived but hard little problem squeezed in between Pathology and Thunderbox past one old bolt .

Al Mark, 1984

12
Thunderbox
19
8m
1

Greasy layback crack to mantle, or 'an interesting face climb', claims Hudson.

Calum Hudson, 1992.

13
Greenhorn
21
7m
5

Overhanging wall with tenuous sloping holds. Excellent quality rock. A belay was finally installed by Murray Judge in 2021 and the wall was subsequently retrobolted by Bob Chow.

Dave Wills, 1984.

13a
Greenhorn Variation
20
4

Up Greenhorn then head left to a belay out on the point.

Bob Chow 2021 FFA

13b
It's All Downhill From Here
18
4

Up the right hand edge of Greenhorn wall on good quality rock.

Murray Judge 2021 FFA

14
Baked Beans
15
7m

LH route inside chimney.

15
Squashed Banana
15
7m

RH chimney route.

16
Sand Bird
12
20m

Hardest at bottom. Easy access to top of pinnacle via seaward arete.
UUID:
72108869-3ede-457b-83b1-42707f3b60ea