Build-up of dirt and vegetation in the main cliff cracks is an ongoing problem – do a little gardening as you rap back down. You should be able to rap off with a single doubled rope from all anchors from Aafnraa to Burning Sky, but beware – it may be more than 25m to actual ground level, so don't rap off the ends of your rope. There have been several abseiling injuries at the beach.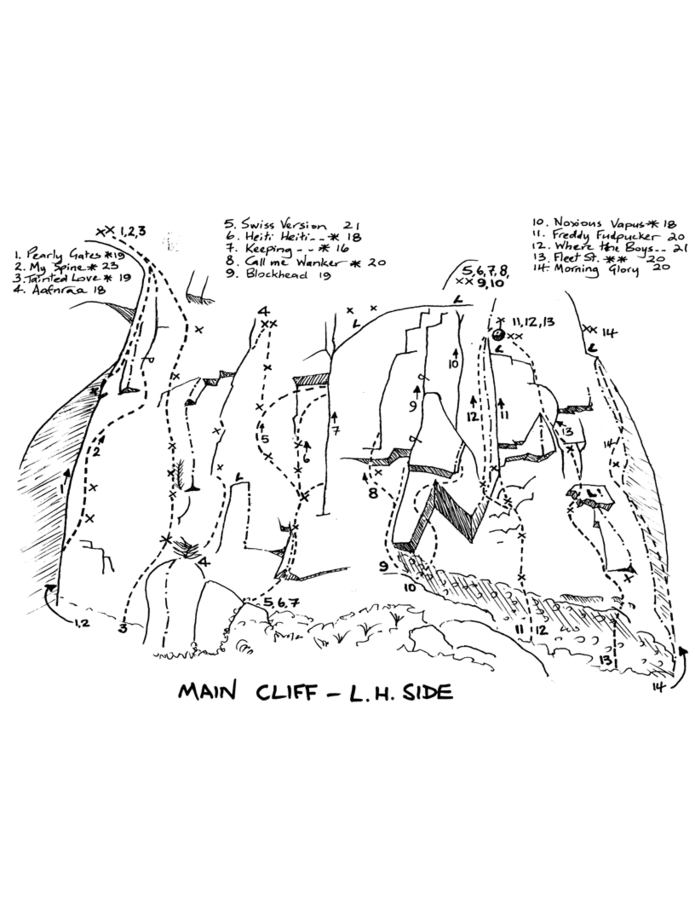 Reference
Title
Grade
Length
Quality
Bolts
Gone
Natural pro
Link to edit content
3
Tainted Love
19
30m
7

This varied face climb deserves a clean and rebolting.

Al Mark, 1985.

4
Aafnraa
18
25m
2

The twin defences of nasty rock and a big tree (which fell down in 1997) meant this was the last of the main cliff cracks to be climbed. Follow the nasty crack and the two bolts added after the first ascent to the creaking layback crux (the crux moves are fun, actually).

Al Ritchie, 1997.

5
Swiss Version
21
25m
6

Recent rebolting (and repositioning of one of the sandbag bolts, much to Mark's disgust - 'it was only a bit run out!') may see renewed interest in this long ignored face climb. On second thoughts the crux, on rounded lichen-infested slippery holds, may never come back into fashion. Go L after clipping the first 2 bolts of Straight and Narrow. Original finish out R to join Straight and Narrow. Al Ritchie added another bolt to protect a direct finish to the Aafnraa DBB.

Al Mark, 1985. Direct finish Al Ritchie, 1998.

6
Heiti Heiti Kahikatoa
18
25m
4

An interesting and frequently climbed face route, but a deceptively nasty fall is possible from above the last bolt - more than one injury (including a broken ankle) has been reported due to glancing off the slab below. The scar above Heiti is evidence of a rock avalanche down the route a few years ago, and a reminder of the tiger country that sits above us on the Main Cliff.

Fiona Bowie, 1985.

7
Keeping on the Straight and Narrow
16
25m
3
1

The easiest way up the main cliff - a popular excursion. Up loose, vegetated ground to first bolt, then traverse R (crux) past a 2nd bolt to the crack. Finish R and rap off the Wanker DBB. Reasonable pro. A direct start (Dave Brash, 2018), protected by 3 bolts, is an alternative, less harrowing entry to the nice crackline above.

Brian Alder, 1985.

8
Call Me Wanker
20
25m
2
1

The crux move through the roof was previously described as 'exciting...will get the adrenaline flowing'; it now has a bolt at the lip (2018), and subsequently chalk on the holds for the first time in many years. The crack on the headwall is nice too. Alternate access from the left via Straight and Narrow Direct Start.

Dave Vass (stolen from Al Mark), 1984.

9
Blockhead
17
25m
3

In its former life, this was a scary G 19; after cleaning and some judicious retobolting in 2018, a lovely lower grade climb emerged. Recommended. Follow L facing corner to overlap (crux), then up the well protected upper crack. Clip the final bolt and run it out on easy ground to the anchor.

Dave Vass, 1984.

10
Noxious Vapus
18
25m

Poorly protected climbing to the horizontal break (fiddly but adequate pro here), then a committing step R across the inverted V roof before trending L and up.

Graham Love, 1984.

11
Freddy Fudpucker
20
23m
4

Better than it looks. Admittedly, it looks pretty bad. Plenty of bolts see you safely through brown overlaps into the hanging gully. The red fishing buoy hanging from the anchor is a permanent Long Beach fixture which causes much open-mouthed wonderment among Sunday strollers on the beach.

Graham Love, 1984.

12
Where the Boys Are
21
23m
3

Up Freddy Fudpucker past 2 bolts, swing out onto the arete L past another bolt and up the edge of the arete on natural pro.

Dave Vass, 1989.

13
Fleet Street
20
26m
7

Great route. Devious crux moves to stand on the sloping ledge (just relax now, you won't slip off!), nervously arrange your pro, then great moves up the twin cracks above. Original route moved left to finish (need small cams and nuts, now vegetated) or continue direct past 2 more bolts to anchor.

Graham Love, 1984.

14
Morning Glory
20
24m
1

The arete. Easy climbing to the bolt (which has now rusted) and which protected the crux. Run it out on the upper section, clipping the bolts on Lightening Strike. Is it worth it?

Graham Love, 1984.
UUID:
d9f197a5-7952-4271-9af3-fac2db2e4f28