First developed by Russell Braddock, Mark Simmonds and others during the early 2000's over a couple of weekends involving 7 or 8 people in total. Some unfinished projects remain and there is an old fixed rope or two that are now well worn by the Central Otago sun. These projects could do with being finished.
In 2021, Graham Smith provided the enthusiasm to rediscover the crag and repeat the routes along with the Cromwell crew, including the link up of two projects with Akira Umezawa.
The Cromwell crew met with Mark Simmonds at the Bannockburn Hotel and over beers more details came to light. Some of the details are still incomplete. In many cases routes have been allocated numbers for reference. FA's have been mentioned where known. A topo covering the main area will be added soon. Some routes have now been given names but if you were a part of the original development feel free to make corrections.
Work has begun on developing the Think Big wall which already has an excellent, super steep crack that goes at about 25/26. This wall has the potential for a handful of harder sport routes about 30-35m in length.
Some routes have likely been repeated sporadically in the almost 20 years since the initial development. In places there are options for deep water soloing.
Access:
The easiest access for non-motorised boats is via rapid number 2393 on the Cromwell Clyde Highway 6km south of the cromwell bridge as per picture below. Take care turning left back onto the highway as cars travelling south often pass other vehicles at this point. For motorboats the most reliable access point is probably the boat ramp at McNulty Inlet, Cromwell. The Butchers Drive boat ramp is no longer reliable due to build up of sediment.
Access to the top is possible from the Lake Dunstan Cycle/walking trail. Bike to the top of Cairnmuir Ladder, above the bluffs. (About 30min bike from Cornish point). Stop at sign: 'Stabilising land to construct a dam' and break off track towards lake. From boulder angle down rightwards towards a gully. Stay on true right of gully. Cut across ledge to base of steep wall. (Cairns) Down left around another wall, then back right onto broad lichen covered rock spur. Anchor with chains on this is top of Troglodyte Wall. Rap to base of wall.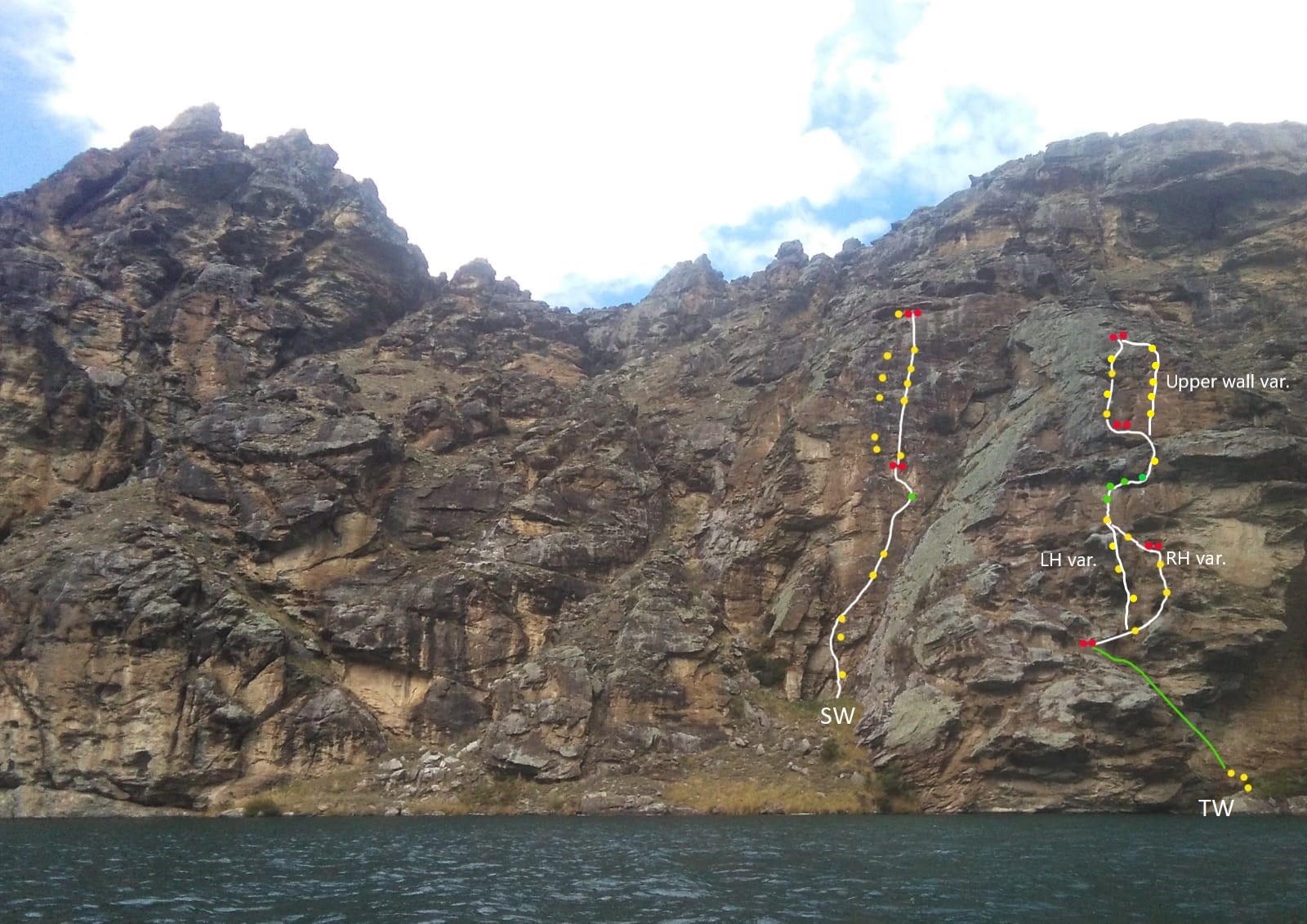 Reference
Title
Grade
Length
Quality
Bolts
Gone
Natural pro
Link to edit content
SW
Shard Wall
17
10

2 pitches, 17,17. Generally good rock, watch the mantle shelf at the top of pitch 1. Second pitch might be worth a star. Possible left variant second pitch with 5 bolts marked in yellow to left of line.

Mark Simmonds and Anna Gillooly early 2000s

TW
Troglodyte Wall
17
10

4 short pitches, crux 17. Bolts and some trad placements, with exposed situations directly above the lake. Green line indicates the first (trad) pitch is out of view in topo. P2 has two variations: RHS (16) side is easier, LHS (17) more direct and it works well for linking pitches 2 and 3 (17). You can rap the route with a single rope. Rap directly from P2 anchor, with back-clipping to prevent ending in water!

Russell Braddock early 2000s

TW-var
Troglodyte Wall - Upper Wall Variation
17
5

Orange wall to the right of pitch 3 anchors. Good face climbing on rails, side-pulls and the odd sloper. 5 bolts. A harder, better finish to the Troglydyte Wall.

Wellerman
Wellerman
24

The Prow on the righthand side of Troglodyte Wall. A good abseil line for the wall. Starts on 2BA on ledge on prow. Traverse easy ledge from P1 anchor of Troglodyte Wall. Straight up Prow, slab and overhanging wall. Easy short exit pitch to right of anchor gets you up to top wall (1B)

1
Overhanging Crack
25
30m
3

Overhanging crack, 25, trad, DBA. Super sustained and steep, crux at the top. Good rock quality. The first route to be developed on the Think Big Wall. Steve Fortune has added an extension - open project. A real pumper and good value. Wall has morning shade. 60m rope should get you down Double rack up to #3, 1 x #4 (down to #0.2) Large wires and offset wires

Mark Morrison early 2000s

1-ext
Overhanging crack -extension
35m
3

From the anchor of overhanging crack, traverse left along rail. Clip bolt and move up and left into right angling crack. Place gear in crack (offset wires, #2) climb to top of crack, clip bolt and do hard move to finishing jugs. Glorious! A 70m rope required to get to ground.

Open Project. Equipped Steven Fortune

2
Big Corner
19,21
45m
6

An obvious line. The corner is dirty but with the right frame of mind you could have fun on this route.

#
Ewbank
Alpine (Technical)
Alpine (Commitment)
Alpine (Mt Cook)
Aid
Water Ice
Mixed
Boulder (Hueco)
Length
Bolts
Trad
1
19
45

m

5
Yes

Trad to halfway then 5 bolts up to right hand trending roof and DBA.

2
21
0

m

1
No

Optional extra few meters - same finish as Fancy Feet.

Mark Simmonds et al. early 2000s.

3
Fancy Feet
17,18,21
41m
7
3

Pitch 1 is a nice crack on gear. It would be a two star route if the upper pitches weren't a little odd, although the climbing is a good test of your footwork. Worth doing.

#
Ewbank
Alpine (Technical)
Alpine (Commitment)
Alpine (Mt Cook)
Aid
Water Ice
Mixed
Boulder (Hueco)
Length
Bolts
Trad
1
17
25

m

1
Yes

Follow the obvious crack on the slab between two bushes then straight up to the anchor. It gets steeper as you climb and there's couple of nice hand jams near the top.

2
18
12

m

5
Yes

Traverse left, climb up near the main corner and then back right. Delicate moves with demanding footwork. Cam placements can help to make seconding more pleasant.

3
21
4

m

1
No

Small roof to the final anchor. Well protected. You can traverse right from bolt to avoid bulge, about 18. It is also possible to link pitches 2 and 3.

Russell Braddock early 2000s

4
Slab and Double Overlap
19
25m
5

Affectionately known as the ducks arse or the Parsons nose. Start from the start of route 3 (Fancy Feet) wandering diagonally to the right then up using sparse trad placements on easy ground until you reach a bolt under the first overhang (account for rope drag here). Follow the break right and pull onto the brown slab (the Parsons nose). Continue up and over the next overlap passing another 3 bolts to the double anchor on the left. It is possible to start below the roof on a single bolt with a chain hanger and then up the incipient crack that will need cleaning.

5
Fixed Rope
17,22
6
2

It is possible to traverse in from the bolts of route number 6 as Akira and Graham did in 2021. The direct start off the water is still there to be done.

#
Ewbank
Alpine (Technical)
Alpine (Commitment)
Alpine (Mt Cook)
Aid
Water Ice
Mixed
Boulder (Hueco)
Length
Bolts
Trad
1
17
0

m

No

Trad and 1 bolt, exposed traverse links projects 6 and 5.
Akira Umezawa and Graham Smith 2021

2
22
0

m

6
No

Sport, can use a nut to protect final move. Developer unknown but was started in early 2000's

6
Unfinished Project

3 bolts and 2 x anchors at the same elevation but one was used as access for development. Mark Simmonds early 2000s

7
Mostly Trad Pitch
17

Mostly trad first pitch, 17. Exploratory pitches above. Details not confirmed. Possibly Russell Braddock early 2000s

IOTC
Icing on the Cake
18,13
38m
7

Mixed line that starts on the left of the arête that splits the upper tier.

#
Ewbank
Alpine (Technical)
Alpine (Commitment)
Alpine (Mt Cook)
Aid
Water Ice
Mixed
Boulder (Hueco)
Length
Bolts
Trad
1
18
18

m

4
Yes

Delicate footwork on small holds past three bolts on the slab/arête followed by a fun corner and jugs higher up. Two star pitch.
.75 and #2 cams needed

2
13
20

m

3
No

Mostly easy scrambling aside form a few moves around the initial overhang and the small face at the top. Move up and left to anchor on the ledge. Easiest decent is to walk off. Take leaver biners if you intend on abseiling the route.

Steve Fortune, Kieran Parsons 2022
UUID:
7bbd1c36-23cf-4a4d-8381-1c46884aa082