A small cliff consisting of high quality, water worn schist. Due to erosion by (presumably) the Clutha River this crag has nice scoops and flakes which make for nice three dimensional climbing - not a lot of crimping to be found here. The routes are quite short 6 - 10m. The right hand end can work well for top roping/easier leading and the middle to left of the crag has some entertaining routes in the low 20s. Worth an hour or two of your time if you are driving SH8 and you want to get a climb in. The bolting is relatively modern and all routes have double bolt anchors with chains aside from the route that seems to go nowhere (marked with ? on the topo). Most routes can be accesses from the top of the crag. Developed by Russell Braddock.
Access:
Access via the Bendigo picnic and camping area (Lake Dunstan) adjacent to SH8 approximately 15 minutes drive north of Cromwell. Drive down to the boat ramp and you can't miss the crag.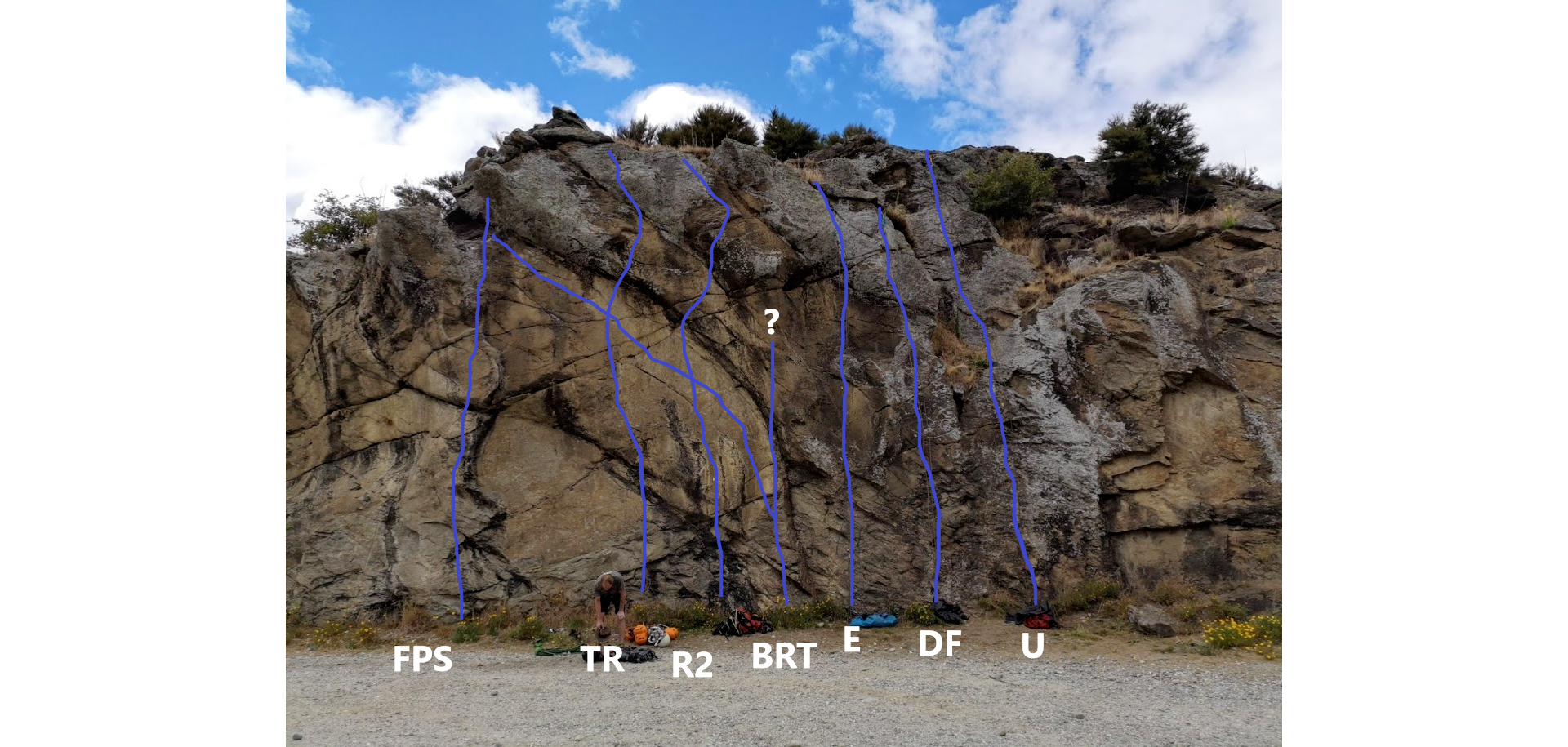 Reference
Title
Grade
Length
Quality
Bolts
Gone
Natural pro
Link to edit content
FPS
Fancy Pants Salmon
20
6m
3

The obvious prow on the left. Sinker jams to clip the second bolt. Good flakes and the odd heel hook if you fancy.

TR
The Rat
21
8m
4

Start in the left hand runnel then onto slab with slight runout to second bolt. Pull through small roof on jugs and up to flake and pocket then move left to chains.

R2
Rat Two
22
8m
4

Start in the runnel right of The Rat and up slab. Move through crack and bulge with intimidating mantle. The name of this route may be The Rat but it is unclear.

BRT
Boat Ramp Traverse
18
9m
4

It is possible to traverse from the start of Rat Two to the anchors of Fancy Pants Salmon.

ER
Ever Rude
15
8m
3

Classic moves to get established in the dish. A nice route for the grade.

DF
Dog Food
13
7m
3

Crux at the bottom. Best to avoid the grass to the right at midway.

U
Unnamed
11
10m
3

Tricky start for the grade 2m right of dog food. Try to avoid the grass in the groove.
UUID:
50eebaaf-7b9d-42db-b29c-30507c78418c