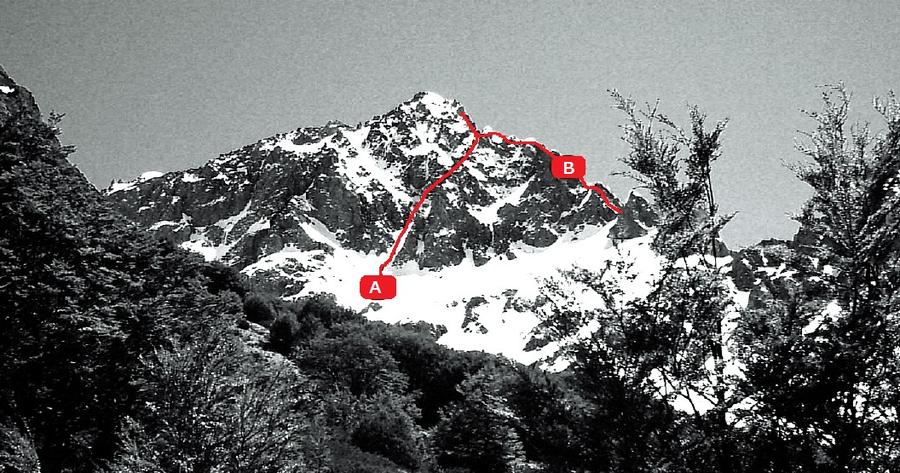 Reference
Title
Grade
Length
Quality
Bolts
Gone
Natural pro
Link to edit content
East Face
1

Via Hamilton River. Climb easy tussock and scree slopes to the summit.

B
South East Ridge
2

From Hamilton River. A striking ridge gained from the saddle at 1675m to the Begley. Steep towers can be turned via western slopes.

A
South Face
2

Via Begley Creek. A narrow steep gully (visible from the flat just downstream of Begley Hut) angles up right from the bottom of the face to the South East ridge. Take the left exit option, and follow the ridge (or a slope on the north side) to a knob south-southeast of the summit, then cross a basin to the summit ridge. A more technical variation is to climb part way up the gully, and then sidle left across a steep snow-covered slab and up a snow slope to a blocky rib. The easiest descent (or ascent) route is via a large basin and gully south-west of the peak.

North West Face Route
1

Cross the river just below John Tait Hut (Travers Valley), and follow downriver a short distance to a bush spur leading above the bushline to scree basins. Steep gullies lead to the ridge north of the summit.

South West Ridge
2

The scree basin of North West Face Route (Travers Valley), leads to a col; the final 60m of rock ridge is interesting.
UUID:
37f6c6dd-d9ad-48aa-bb95-8b7ee78a5d45