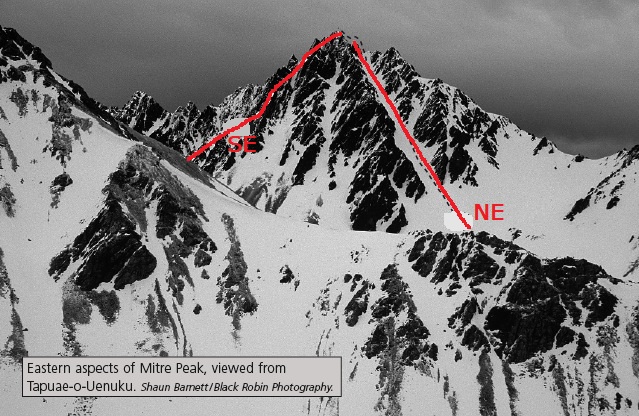 Reference
Title
Grade
Length
Quality
Bolts
Gone
Natural pro
Link to edit content
NE
North East Couloir
2

Via HODDER RV. From the Staircase Stream junction continue up the Hodder, and climb the prominent couloir to a narrow col at the top. Beyond here, some parties may require a rope. A short steep descent and then a short traverse leads to a final steep climb to the very small summit. (via North ridge)

Messrs Alexander, Fowler, Neville, Moore, Jan. 1895.

SE
South East Ridge
2

Via HODDER RV. This impressive rock ridge can be gained from near Muzzle Saddle, or else via a snow couloir. Good scrambling on steep rock.

John Nankervis, Ross Gooder, Bob Gunn, Jan. 1969.
Attribution:
Ben Winnubst photo Craig Potton Shaun Barnett/ Black Robin Photography
UUID:
be6db726-51fe-4f83-bfff-95ad68e17d14