Routes on the 900-metre Otira Face to the Middle Peak of Mt Rolleston are for experienced parties only. More often than not the rock can be quite rotten in zones as determined by the obvious synclined strata!
Visibility plays a major role in a successful and safe climb of the Otira Face, and if poor could lead to major epics on the Middle Peak routes.
Routes on the Otira face of the High Peak are listed separately.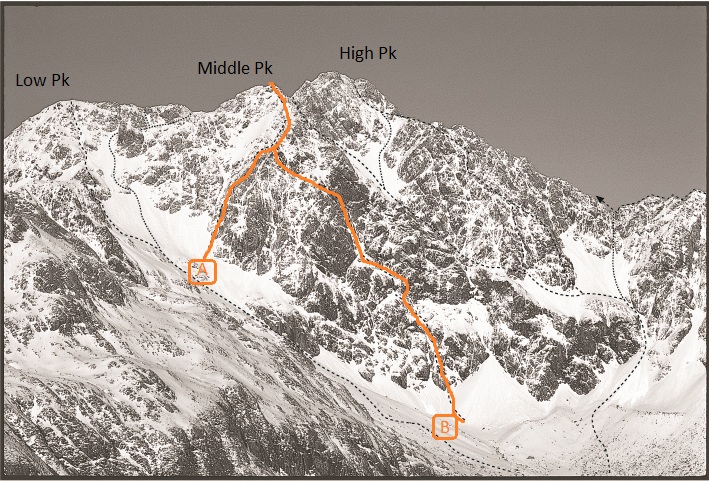 Reference
Title
Grade
Length
Quality
Bolts
Gone
Natural pro
Link to edit content
A
Middle Direct
2

The arete on the left-hand side of the central gut is the most direct line to Middle Peak. It is a loose, long haul. It has claimed many lives in its short history of ascents. Route finding towards the top of this face tends to be quite messy; nearly everybody manages to concoct an original finish.

B
Middle Rib
2

The rib is best reached via a slabby ramp from the lower Otira Slide. Join the rotten spur that sweeps around to join the Middle Direct route just below the summit of the Middle Peak.
Attribution:
Colin Monteath, Hedgehog House
UUID:
5721b987-877a-4ff6-91c4-bedee5dc965a