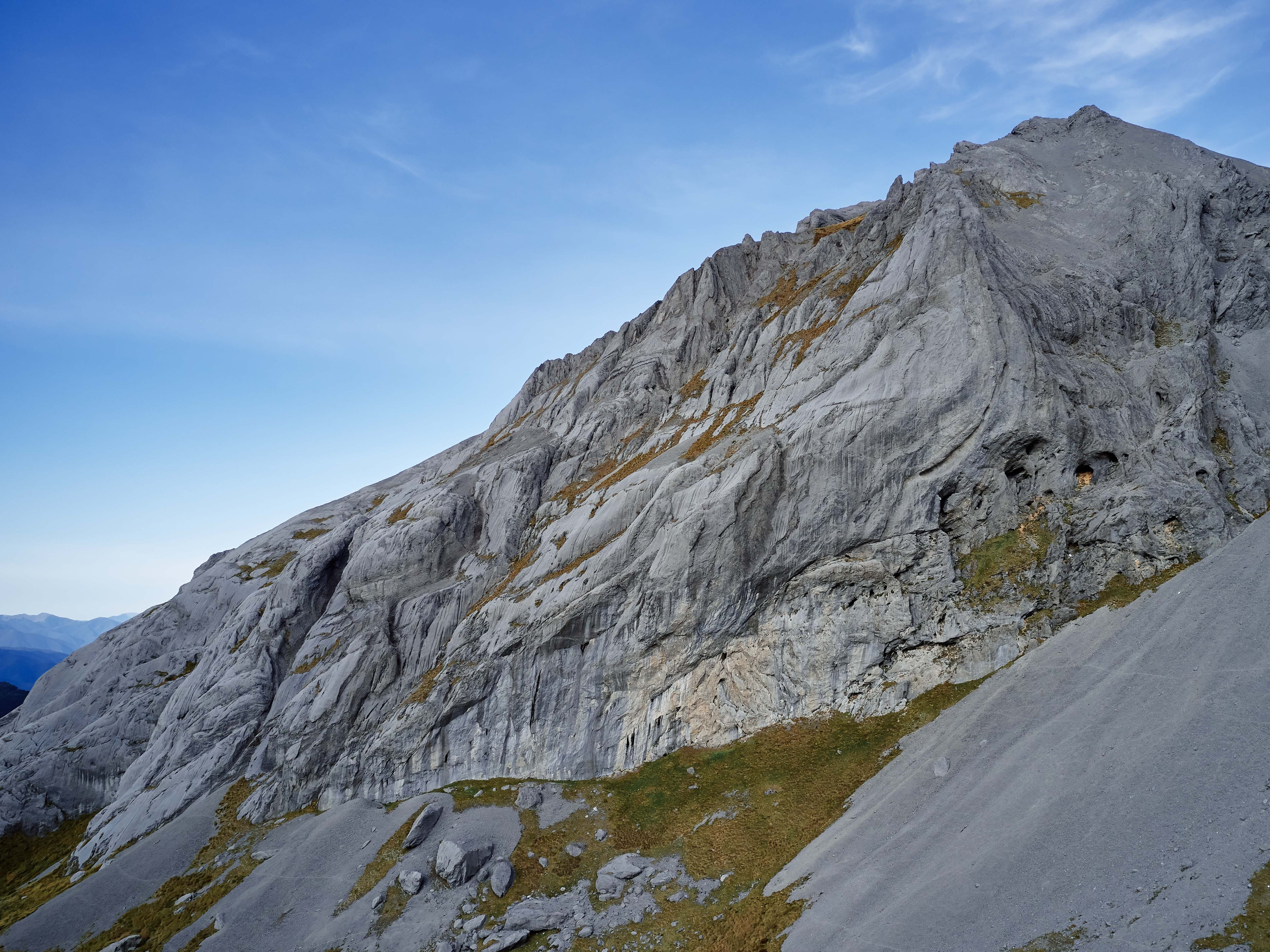 Reference
Title
Grade
Length
Quality
Bolts
Gone
Natural pro
Link to edit content
The Spruce Goose
20,24,21,21,18,19
168m
47
3

A little slice of Verdon in New Zealand. Superb face and slab climbing on mostly excellent rock (after Pitch 1) to the top of the pinnacle on Point 1764. 6 pitches, ~175m, climbable on a 60m rope with 12 draws. The route is set up to rap the pitches as described for climbing, including a short mini rap from the Sanctuary Ledge to the Eagle Cave in order to then make the ground. The rope pulls are pretty clean but beware there are plenty of sharp, snaggy bits of rock around.

#
Ewbank
Alpine (Technical)
Alpine (Commitment)
Alpine (Mt Cook)
Aid
Water Ice
Mixed
Boulder (Hueco)
Length
Bolts
Trad
1
20
40

m

10
No

The worst on the route, don't let this one discourage you, there's far better rock and climbing to come.

Start off the top of the large block at the right hand end of the crag just before the grass slope turns to scree. It is easiest to ascend the block on the far side via a short scramble.

A ramble through a garden system leads to steep moves out of the small cave up and right on sharp jugs. There is some loose rock if you stray too far from the line of bolts, be cautious. The belayer should be away to the left and safe from rock fall (belay from on top of the block).

It is possible to climb all the way to the Sanctuary Ledge, but recommended to stop at the rap station in the Eagle Cave in order to reduce rope drag and make it nicer for the follower. Best to have 4-6 extendable draws for the initial bolts to help reduce the drag. You'll then need to climb an easy mini pitch to gain the big ledge.

2
24
18

m

8
No

Absolutely superb face climbing on sidepulls and undercling features, and worth the walk for this pitch alone. Start from the left side of the Sanctuary Ledge at the single ring. The second and fifth bolts are tricky to clip, so be careful (there are good stances for each).

3
21
30

m

8
No

A long, engaging pitch on mostly great rock. Low angle slab moves lead to a short steeper face. Belay at the base of the big ramp.

4
21
20

m

5
No

Run up the immaculate hanging ramp to a slab boulder problem just before the comfy belay pod.

5
18
30

m

7
No

Steeper moves right from the belay quickly relent to easier climbing to ledges (some loose rock sitting on ledges). Belay at the base of the headwall.

6
19
30

m

9
No

Climb up to the vague groove and then onto the steeper headwall section to the top anchor.

Peter Allison and Tom Hoyle, March 2020.
UUID:
3d90f579-14f6-4671-8f7e-2630b52d48e6