The climbs take the steep wall above the Chill-Out Ledge. They are well-protected sport and mixed routes and have lower-off chains. There is a 'rescue' rope on the ledge for pulling the climber back in. To avoid dropping your mate, consider tying the lose end of the lead rope to the belayer or the chain. Enjoy!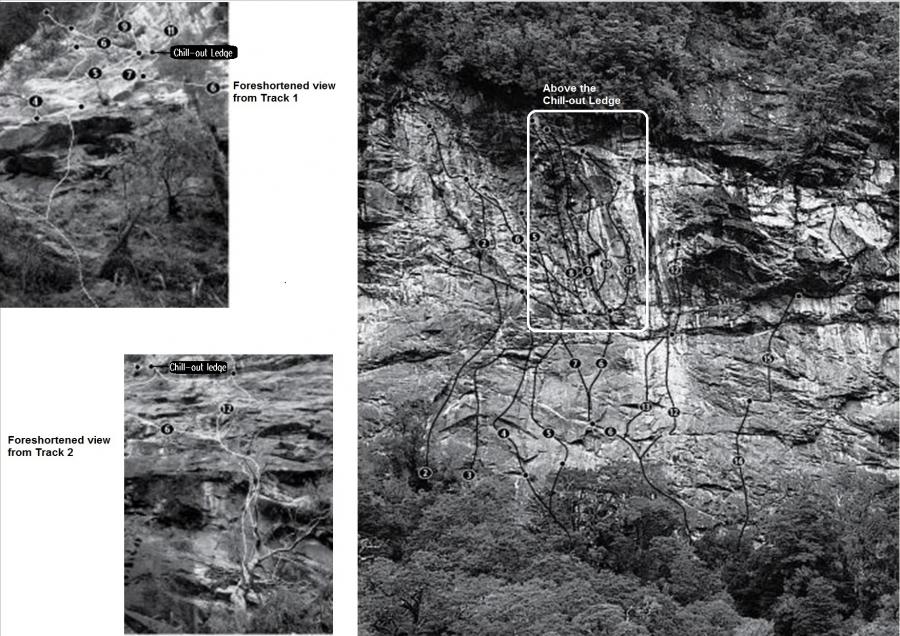 Reference
Title
Grade
Length
Quality
Bolts
Gone
Natural pro
Link to edit content
8
Akathisia
20 ,28
24m
5

Five bolts and a no hands rest at the end.

#
Ewbank
Alpine (Technical)
Alpine (Commitment)
Alpine (Mt Cook)
Aid
Water Ice
Mixed
Boulder (Hueco)
Length
Bolts
Trad
1
20
12

m

5
No

Five bolts and a no hands rest at the end.

2
28
12

m

No

Straight up from belay to the anchors up and left of Buster Gonad.
The route was lovingly bolted by Paul Rogers. It is possible to climb the route as one long pitch.

Mayan Gobat-Smith, Jan 2006.

9
Buster Gonad
26
24m
9

A wild ride from start to finish 26m. bolts and CD's from #1 to 3.5. Left-facing corner and prow above the belay. This route has it all, pockets underclings, lay-backing and crimps!

Paul Rogers, Steve Walker, April 1993.

10
Insane Automatism
28
23m

From the ledge, traverse right 2m then climb the corner and arête. This line joins Buster Gonad for 1 bolt then climbs straight up through the cruxy dyke feature.

Derek Thatcher, 2005.

11
Bus-Ter-Milford
27
18m
8

. Eight bolts. This route takes the line of pockets out right. Crimpy moves past the first bolt lead to a steep ramp and pocketed headwall. A popular test piece.

Chris Plant, Feb 1994.
UUID:
39c24ffb-a7b7-4a78-900d-beb3a154b3de