Access:
From the head of the creek-bed, head straight into the bush to reach a brown slab. This is the base of High Ideals and Crazy Dreams.
To reach routes 9 to 12, head seven metres up High Ideals and Crazy Dreams, then traverse sharply left to two separate belay anchors. The Vertically Challenged anchor is higher and further left. These are great wet weather options.
Routes 15 to 19 are climbed from the Waterfall Ledge at far right end of the crag, which is accessed from a short track at the left end of the hedge under the waterfall.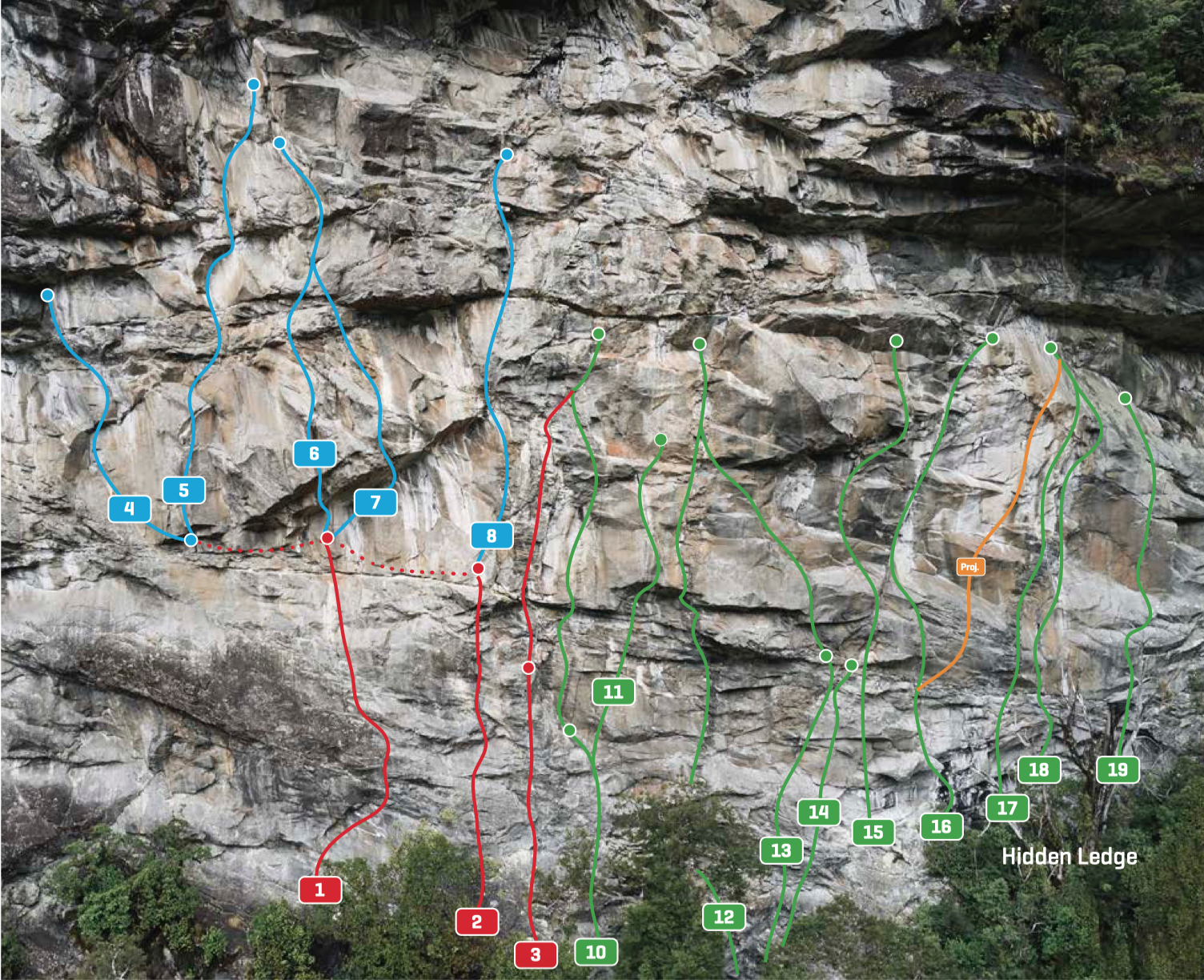 Reference
Title
Grade
Length
Quality
Bolts
Gone
Natural pro
Link to edit content
9
Au Naturel
22
18m

The shallow corner and prow left of Vertically Challenged. Take small wires and cams to #2. This route requires good and quick runner placement. Use the belay on Vertically Challenged.

Hugh Barnard, Paul Rogers, 1993

10
Vertically Challenged
25
18m
8

Straight up the wall moving right at the second bolt. Back left at the third, using a longer clip to protect moves over the roof. Up on good holds to the crux, ring bolt, then the headwall to finish.

Kevin Nicholas, Paul Rogers, January 1995

11
Fridge Lifter
27
30m
9

Don't put your back out.

Derek Thatcher, 2010

12
One Way Ticket
24
25m
9

Start as for the previous climb, then move left to the belay ledge where you will find a single bolt. Fantastic face climbing leads to the roof. Place a #1 cam in the horizontal break to protect the initial steep moves below the roof proper. Turn the roof and climb the dyke above to finish as for the previous route.

Paul Rogers, Steve Walker, 1993

13
High Ideals and Crazy Dreams
19,22
34m
2

This was the first climb completed at the crag, and it's well worth doing. Take wires and cams to #3.

#
Ewbank
Alpine (Technical)
Alpine (Commitment)
Alpine (Mt Cook)
Aid
Water Ice
Mixed
Boulder (Hueco)
Length
Bolts
Trad
1
19
15

m

Yes

Climb the left-facing corner and then rock over on good holds to the right. Stack some good gear into the horizontal break. Steep moves up and left lead to a lay-away, follow this trending right to a small belay ledge at the bottom right of an obvious flake.

2
22
19

m

2
Yes

Move left and crank the flake. Laybacks left lead to a dyke, which is climbed past two bolts to a belay bay. A 30-metre abseil will put you back on the ground.

Paul Rogers, Steve Walker, 1993

14
Roaming Warrior
25
20m
7

Relatively easy climbing to the crux, then do a hard boulder problem involving minimal feet and big moves.

Owen Davies, 2012

15
Piropiro
26
27m
9

Starts off the left end of the ledge behind the 9 hedgerow.

Sally Carter, Aaron Ford, April 2004

16
Day Tripper
24
25m
5

A right-facing pink and white streaked corner offers steep technical climbing on perfect stone. Start at the jutting block. Climb the slab past two bolts on good incuts then move left and up the slab to the corner. Climb the corner above to a good rest then up the steep wall to exit right.

Paul Rogers, Steve Walker, 1993

17
Doobious Tendencies
27
25m
7

Weave through the scoop and over onto the ladder-like slab which will escalate you to the challenging top face. Weasel your way through the edges to a climatic finish. Take 3–4 long quickdraws, as well as the usual short ones.

Ivan Vostinar, 2004

18
Stoned Immaculate
23
25m
9

This is the first climb on the right. Up the steep wall past three bolts. A tricky rock-over move then leads you up and right into a left-facing corner. Steep cranky moves to finish up a slab.

Hugh Barnard, Paul Rogers, 1993

19
On the Perimeter
23
23m
4

Take some long runners and small fingers.

Sally Carter, Aaron Ford, April 2004
Attribution:
Craig Jefferies, Kate Sinclair, Ivan Vostinar, Tom Riley
UUID:
37246e34-ec2c-4fc7-b4cc-eb4cef03e368