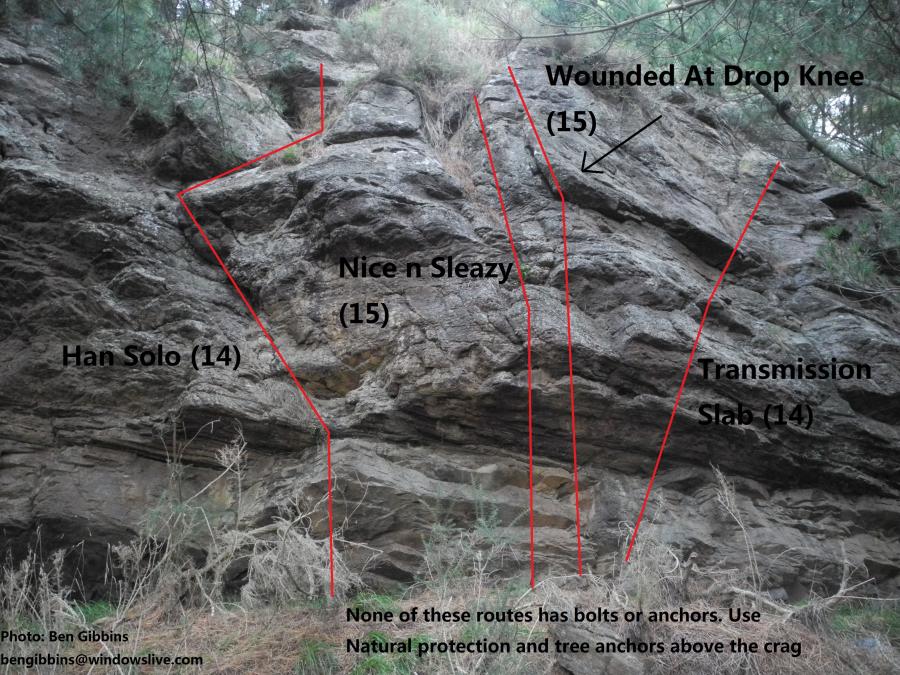 Reference
Title
Grade
Length
Quality
Bolts
Gone
Natural pro
Link to edit content
Han Solo
14

The next four routes are about 20 metres right. All were soloed on sight, but would probably have natural protection for a lead. About 25 metres right. Pull up on good holds and follow a crack leftward to an orange pod, then step right to finish on the grass. Marcus Thomas, 2000.

Nice n Sleazy
15

Two metres right, where the cliff turns west a bit. Over a small roof on good holds (reachy), and up a shallow, low-angle V-corner. Marcus Thomas, 2000.

Wounded At Drop Knee
15

A metre right. Over the roof on big holds and climb the flake. Stu Allan, 2000.

Transmission Slab
14

Boulder up a bulge below a yellow stain, step right and climb a vague crack up a slab/wall. Marcus Thomas, 2000.

The Right Conquerable
18

The last two routes are about 30 metres further right, in a nice sunny area where the cliff is turned to the west a bit. Obvious V-corner with a capping roof, exiting to the right (crux). Clean, short, and fun. Natural protection. Anchor to a tree about ten metres up. Marcus Thomas, 2000.

Under Age
15

Right on the turn of the cliff. Haul over the bulge on good holds and climb the wall using natural protection in slots and pockets. Stu Allan, 2000.
UUID:
ecc33955-f51c-40ad-8155-18c30e51ddb7