Tamatea
Tamatea
(0 routes)
NOTE THAT THIS CRAG HAS BEEN CLOSED BY THE LANDOWNER.
MANY OF THE CLIMBS HAVE HAD HANGERS REMOVED TO DISCOURAGE CLIMBERS FROM NOT OBSERVING THE CLOSURE.
The crag is located on the south side of the Summit Road in a gut overlooking the Governors Bay Road. The main wall is around twenty metres high and the rock is typical Port Hills volcanic rock, lichen covered, course grained and fairly compact. The West (main) Face is not too steep but as you go towards the south end of the main face the crag changes in nature becoming undercut & then overhanging around on the South Face. The majority of the climbs were done by Simon Courtois & Tony Burnell.
Access:
From the Sign of the Kiwi drive along the Summit Rd. go past the Sugar Loaf road turn off & the next parking spot, keep going till you reach a parking spot on the North side of the Summit Road, trees on the south side and a gate. In the paddock on the Lyttelton side you should be able to see a smiley face painted on a rock. Cross the fence and skirt the edge of the plantation heading up the hill until you come to the top of the crag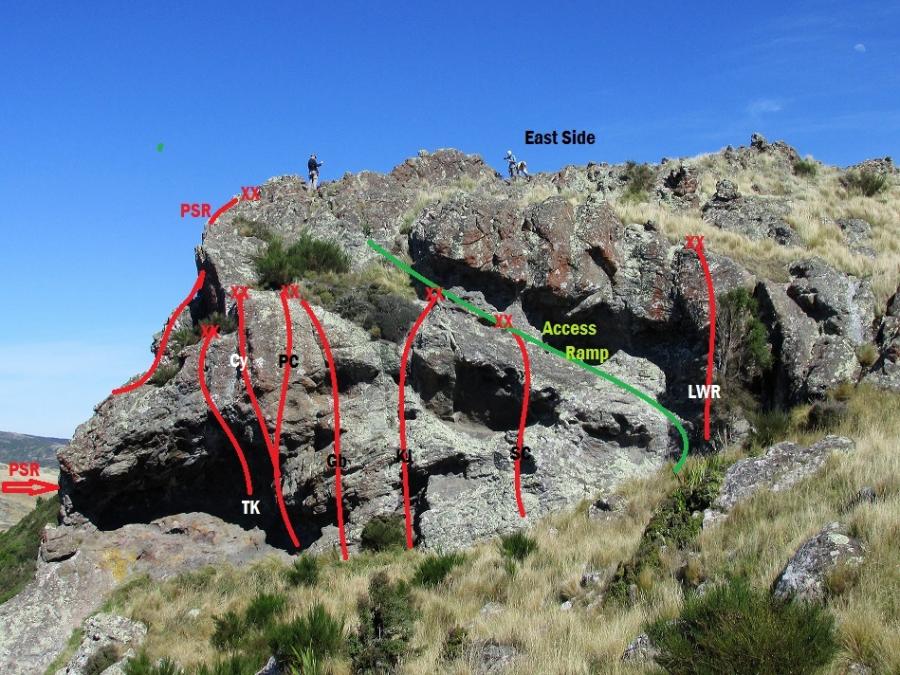 UUID:
11852203-70e9-4ae7-beb6-f1e18275331b