The area of boulders to the north of Rambandit Valley.
Recently the area has not been very popular due to being closed.
The routes do not get much traffic and could be slightly greasy, and brushing is not encouraged.
The best climbs to orient yourself on are Rambandit (Rb)
Access:
The Dark Castle is CLOSED, mainly because it has been part of Castle Hill Station, and overlooks the house. Nothing has changed.
Climbs on the West side of the Rambandit Valley are okay but all other areas of Dark Castle and the Lime Quarry scarp are currently still closed.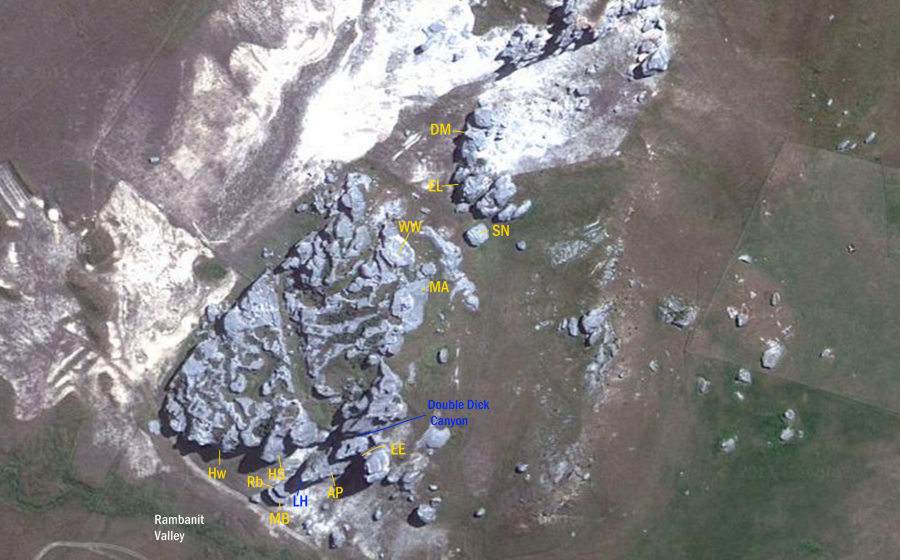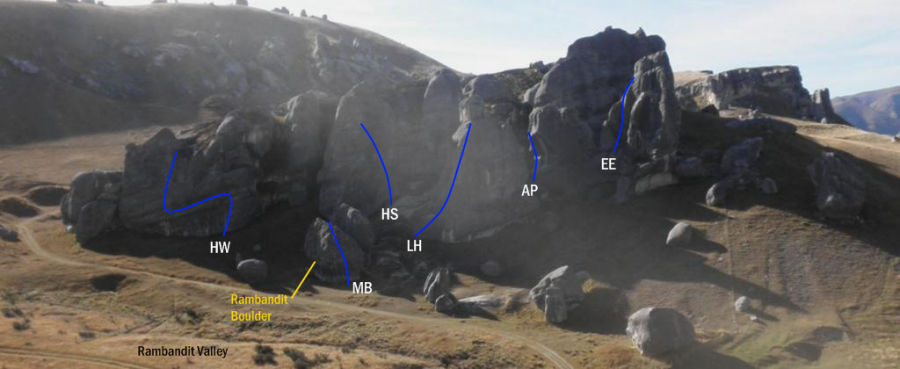 Reference
Title
Grade
Length
Quality
Bolts
Gone
Natural pro
Link to edit content
Jesus Chrysler
25
1

Left of SAYS

Dave Fearnley 1988

Smile as You Sin
25
1

The wall to the left of Rt

Pete Smale 1988

Rambandit
21
2

The handcrack on the north side of the boulder. Generally soloed as the crux is at the bottom

John Allen 1979

You Light up My Liver
19
1

Located in the Rambandit Boulder. Bridge the gully to the pock.

Bryan Moore 1989

Pete Eats Dust
27
1

Nick Sutter 1992

MB
Mental Block
24
2

Found on the Rh edge of the south side of the Rambandit boulder.

John Allen 1980

Mean Mr Peanut
22
1

Found at the upper end of the Rambandit Valley. Climb the rounded arete.

Dave McLeod 1988

Space Race
19
1

Use same star as AB. Move L-wards to the pocks and up past the bolt.

Simon Middlemass 1989

Anna Bollocks
19
1

Start R of MMP. Carry out short pock crank.

Dave Fearnley 1988

HW
Hoodwink
19 ,6 ,23 ,20
8
2

Climb MMP, SR or AB to gain the shelf.

#
Ewbank
Alpine (Technical)
Alpine (Commitment)
Alpine (Mt Cook)
Aid
Water Ice
Mixed
Boulder (Hueco)
Length
Bolts
Trad
1
19
0

m

1
No

Climb MMP, SR or AB to gain the shelf.

2
6
0

m

No

Traverse L-wards along the shelf.

3
23
0

m

4
No

Ascend wall and bridge onwards.

4
20
0

m

3
No

Traverse R-wards, then exit straight up.

Dave Fearnley, Sue French, Matt Evrard 1988

Wings of Desire
26

A technical route that still remains unrepeated

Dave Fearnley

Made from Girders
26
5

An old Dave Fearnley project.On the south face directly facing Rambandit. Climb the arete.

Murray Hamilton 1990

Irn Bru
26
4

A good summer pocket pull

Murray Hamilton 1990

Headful of Steam
24
3

Found at the Lh-side of the gully behind Rambandit. Ascend the wall and then puulover into a big scoop.

Dave Fearnley 1988

Sewerslide
19
3

Found at on the Rh-side of the gully behind Rambandit. Climb the arete.

Dave McLeod 1988

Pinstripe Clone
18
3

Starts R of Sewerslide. Climb up and R-wards following bolts to ramp.

Merv English 1989

The Lovin' Handful
24
3

Starts 10m R of Sewerslide. Climb the arete via the layback crack.

John McCallum

Ewe 2
17
2

Found on the large separate block. Start at the NE corner and go L-wards to gain the slab.

Nigel Perry 1989.

White, No Sugar
22
2

Uphill side of the Ewe2 boulder. R-ward trending line.

Ton Snelder 1990

Big Chimney
16
3

AT the end of the valley. Climb the chimney crack.

John Allen 1978

The Tower
22
1

Startb at the top of Big Chimney. Clip the bolt then gain some pockets, go straight up or L-wards across the groove to the edge.

John McCallum 1987

Atomizer
27
1

On the Lh-side and near the entrance of Double Dick Canyon.

Peter Taw 1991

Magic Kiwi
22

R of Atomizer. Climb overhung corner, then travers R-wards to pedastal and onwards up the arete

Merv English 1990

Baby Bunnies
16
3

A short wall and slabby groove on the approach to EE

Merv English 1990

EE
Endangered Earth
23
5

Approach via the rock path, to starting bolt. Climb the wall to the flared groove then out L-wards onto the slab. Shares the same finish as the Big Chimney.

Merv English

Wendy's Rasin Loaf
16
1

Found on a small pinnacle , near the water runnel leads towards EE. Climb the Lh-edge.

Merv English 1988

Cutex Cutie
16
1

Found on a small pinnacle , near the water runnel leads towards EE. Goes up the middle

Merv English 1988

Super Slipper
18
1

Found on a small pinnacle , near the water runnel leads towards EE. Climb the south side.

Merv English

New Ninja
15
2

Starts out of Double Dick Canyon at the bolt belayers anchor. Climb up the L-wards to pocks and carry on upwards.

Merv English 1988

Manicure
19
2

Starts out of Double Dick Canyon at the bolt belayers anchor. The middle route.

Sue English 1988

Breakfast in Bed
21
2

Starts out of Double Dick Canyon at the bolt belayers anchor. Climb the Rh Arete.

Merv English 1988

AP
Angel of Pain
31
3

The mono/fingery overhung wall

Eric Talmadge 1991

I.R.A
19

On the main scarp, uphill from the Big Chimney. Climb the orange Y crack, with your chioce of exit

John Allen 1978

Mal a l'Aise
21
3
3

Found on the NE corner of the scarp, past a large arch (up high). The thin slabbish wall to the left of a cave. First bolt used to live under a rock at base of climb and was inserted into the hole on ascent.

Robin Hood 1987

Tears of a Clown
16
3

Found on the NE corner of the scarp, past a large arch (up high). Go up through the boulder cave to the Left of MA through srub onto the lslab above MA to belayer bolts. Climb L-wards then up the arete, and finishing on the slab.

Robin Hood 1987

Lycra Lounge Lizards
18
4

Found on the NE corner of the scarp, past a large arch (up high). Using the same belayer bolts as ToaC. Climb straight up then move R-wards over a small roof.

Robin Hood 1987

Ernie Falls in Love with Doris
20
1

Found on a boulder opposite MA. Climb the Rh-side of the ledge.

Dave McLeod 1989

Love in the Void
21
3

Climb the yellow wall 40m R of MA

Robin Hood 1988

Bruce the Christian
13

Climb the chimney to the R of LiaV

Robin Hood 1985

White Wince
22

The Lh- slanting diagonal crack, to the R of BtC

John Allen 1980

The Rainbow
20
3

Downhil from WW. Climb the crack through the overhanging groove

Chris Mansell 1989

Ernie Drops his Pie
24

On the large boulder in the valley towards the Lime Quarry Srarp, opposite MA. Very technical.

Dave Fearnley 1988

Sea of Nipples
19
2

On the north side of the large boulder in the valley towards the Lime Quarry Srarp, opposite MA. Climb the short slab.

Robin Hood 1987

Better Bodies
21
2

Up the gully opposite SoN and R of the chimney.Climb the pocked wall.

Merv English 1988

Total Fitness
16
2

Opposite SoN, towards the reserve. Climb the paralell side feature.

Dave McLeod 1989

Spitting Buttock
16

Opposite SoN, towards the reserve. An esoteric chimney.

Mark Charlton 1988

Spoondectomy
24
1

Opposite SoN, towards the reserve. Start up the chimney then head L-wards past the bolt and upm the face.

Matt Evrard 1988

Easy Listening
23

On the NW side of the valley opposite WW. Climb the steep fist crack.

John Allen 1980

Legal Aid
23

The route is in a gully, close to and to the L of EL. Climb the undercling/fist-crack.

John Allen 1980

Tranquility of Solitude
13
3

Faces the reserve, L of EL, Ascend the easy slab.

Claire Healing 1988

Banana Chimney
10

Climb the yellow chmney that is formed by a blade of rock.

Dave McLeod 1988

Dark Matter
23
3

At the NW end of the Dark Castle. Climb the grey corner.

John McCallum 1989

Edge of Darkness
22
3

Cliomb the arete to L of DM

Tony Ward-Holmes

Gulf Crisis
24 A1
5

Now out of bounds

Tim Wethy 1990

Razzamatazz
25
6
1

Go towards the Lime Quarry Scarp, on a prominant tower. The groove on the north side.

Peter Taw 1990

Energy Crisis
23
4
1

Go towards the Lime Quarry Scarp, on a prominant tower. Rh-side of the north face, climb the crack then move R-wards around the arete, finishing up RA.

Peter Taw 1990

Radial Action
22
3
1

Go towards the Lime Quarry Scarp, on a the uphill face of a prominant tower. Climb the curve and go letf to the arete at the top.

Peter Taw 1990

Torso
20
3
1

Go towards the Lime Quarry Scarp, on a the uphill face of a prominant tower. Start at scoop and go L-wards or jump start, then upwards and R-wards.

Peter Taw 1990

Sssnap!
17
1

Just R of the tower. Layback up the big rock waffer.

Tim Wethy 1989
UUID:
ddc67e6e-acaf-4d98-bf6a-21cee3fb78d0