The prominent buttress at the north-east end of the cliff, harbouring some of the classic routes of the crag.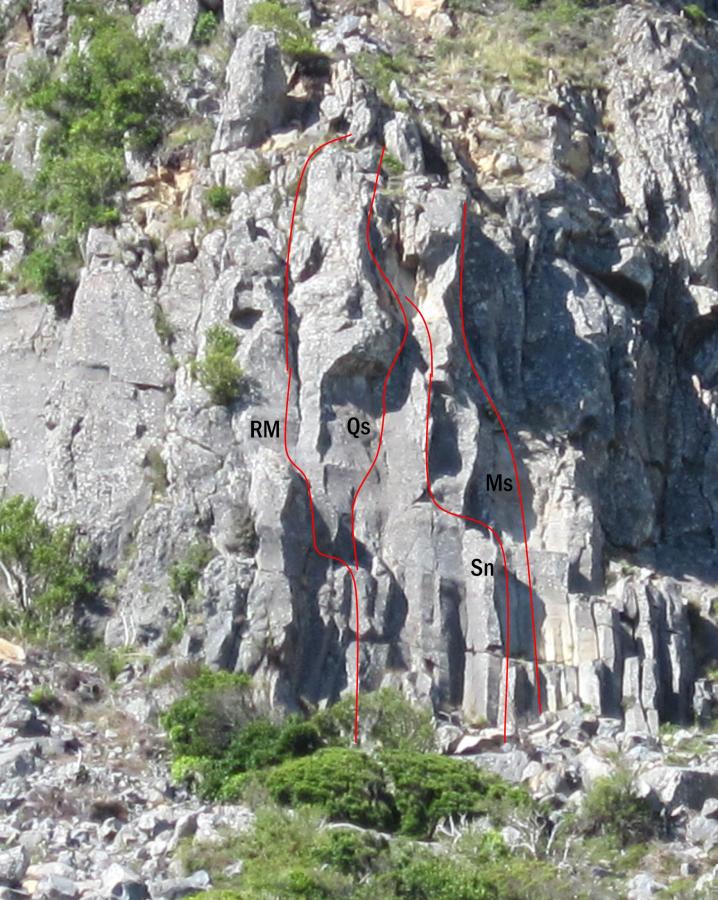 Reference
Title
Grade
Length
Quality
Bolts
Gone
Natural pro
Link to edit content
Hydra
13
23m

A dreadful route with lots of scrub. Start just left of the edge of the buttress and climb over blocks to the platform and thin crack to join the finish of Green Flash.

Lindsay Main, 1980

Corporate Caterpillars
19
23m

The thin crack at the left sdie of the buttress, finishing at the ledge. Place protection in the crack, but start climbing a metre or so to the right before joining the crack.

Joe Arts, 1993

Retrograde Motion
16
22m

Start up a short right-facing corner in the centre of the buttress, to a ledge. Go left on to a large block, then straight up a crack above (crux at start). There is also a direct start (16) on the wall.

Lindsay Main, 1979

Quicksilver
19
23m

Quicksilver right. If you use two ropes you can back the pegs up with gear in the crack to the right. There are chain anchors at the top. The first half of this route survives unscathed. Great moves via the piton give a sense that all is well at the Monument. Unfortunately, the top half of the route has now FALLEN OFF, presumably an earthquake casualty. This is not entirely clear from the ground, most of the giant yellow gash hidden by other features. But once in the thick of it, amongst loose rock and soil looking for something solid to use as protection, it's clear that this route needs a lot of aftershocks or some seriously heavy rain to shake all the detritus off it and reveal some lovely bedrock once more!

Sheer Terra Nova
22
23m

Climb the thin crack between Quicksilver and Supernova, using side-pulls in a groove on the left. Continue up a slab to the right of the Supernova arête, moving awkwardly right at the small overhang. Continue up through the notch, then over the overhang to the chains.

Alan Hill, 2000

Supernova
21
23m

Just to the right is a shallow groove with a thin crack. Bridging, friction, and side-holds enable the groove to be climbed. From the ledge step left and climb a crack left of the small arête to the top groove of Quicksilver.

Tom Bauman, 1978

Moonshine
15
25m
1

This route goes up a series of three corners separated by ledges right of Supernova. The third corner, with two bushes, leads to ledges below an open groove right of the prow of the buttress. On up this, with a step right just below the top. Pro is spaced but adequate.
UUID:
e6957254-bfec-44bf-8035-2dc25aba6455