This is the high, recessed wall which lacks obvious lines. Routes are 20–25 metres long.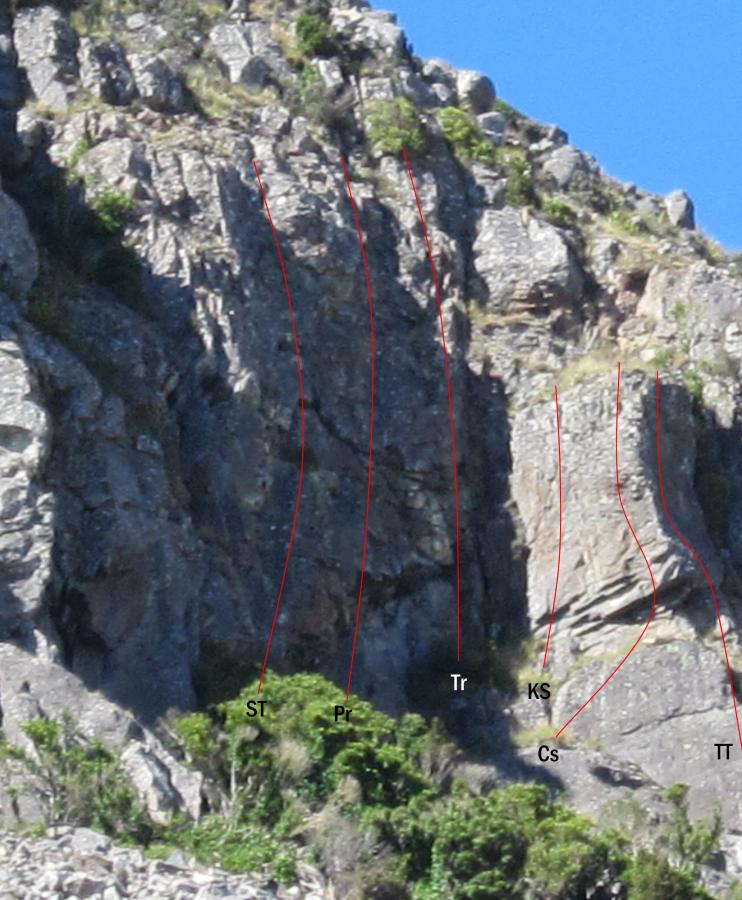 Reference
Title
Grade
Length
Quality
Bolts
Gone
Natural pro
Link to edit content
Cancer
13

Start as for Star Trek beside the tree. Climb the groove and over grassy ledges. Move carefully past a large flake into a steep V-corner. Pull up on blocks and exit straight up. Pretty useless. Lindsay Main, 1980

Star Trek
17

Takes the right-leaning corner and wall above. Near a small tree, climb a groove to a ledge, and step round right into the corner. From a grassy ledge move straight up over a small bulge (crux) and into a groove. Through another small overhang on to the top wall, tending left and then right. Lindsay Main, 1979.

Pulsar
19

The overhanging right-leaning groove. Swing in from the L, then up on jugs. Up over blocks. Step left to finish. Lindsay Main, 1983.

Terminator
18

On the right of Galactic Wall. Start at the weakness in the roof. Over loose blocks tending L and climb the steep wall. Tend R up the wall exiting on the grassy ledge. Pro availible when mostly needed.

Lindsay Main 1979

Klingons on the Starboard Bow
18

A good route on the small north-facing wall wall to the right of Terminator with three bolts. Anchor rings. Joe Arts 1995.

Copernicus
20

Just left of the arête that The Tardis is on the right of. Scramble up to the ledge (anchor belayer with cams) and pull through on to the steep wall, moving left following the three bolts. It's a little easier if you move back to the arête. Anchor rings. Joe Arts, 2005.

The Tardis
19

The prominent undercut arête just right of Klingons. Clip the first bolt and reach through the overhang to pull on to the wall. A pleasant finish to the right past another bolt. Joe Arts 1995.

Anti-matter
17

Just right of The Tardis.  Easily up the wall initially, to steepening climbing with good holds to finish. 3 bolts. Joe Arts, 2005.
UUID:
ecf12046-8dcc-4b86-80c4-defa9a50e2ba