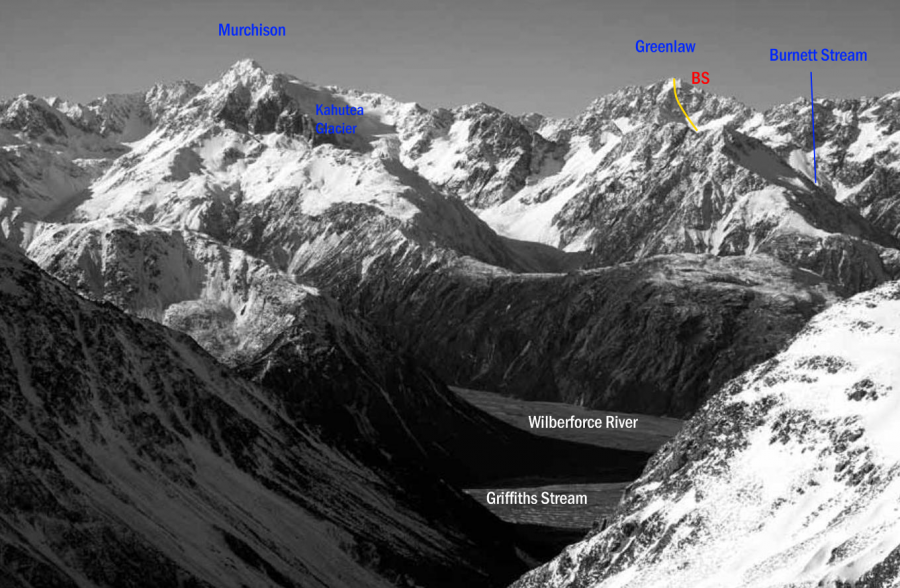 Reference
Title
Grade
Length
Quality
Bolts
Gone
Natural pro
Link to edit content
From Anti Crow River
2

Mt Greenlaw is the best climb from the head of the Anti Crow River. The usual route crosses Gizeh Col and descends to the upper Avoca Valley, then ascends the bluffs to the Avoca Glacier and the North East Face route. A longer, more varied route crosses Fools Col to Avoca Col, then follows a broken ridge to Greenlaw Col. From the col, either continue along the North Ridge, or traverse the snowfield and climb the North East Face.

G Doig, K Coad, R G Logan, December 1934

North Ridge
2

Gain the Avoca Glacier as for the North East Face route. The north ridge can be reached from the glacier at various points and followed to the summit, but this is a loose, jagged and time-consuming option.

David Hall, John Pascoe, December 1939

North East Face
2

From Moraine Flat, head upstream and ascend scree slopes to the base of bluffs below the Avoca Glacier. Several routes are possible through the bluffs, which involve straightforward rock climbing and scrambling on reasonably good rock. From the top of the bluffs, cross the Avoca Glacier, heading south-west towards the summit of Mt Greenlaw, avoiding gendarmes and loose rock on the north ridge. The rock on the summit of Mt Greenlaw is notoriously loose. At the end of the glacier, rather than join the north ridge, traverse south slightly on to marginally better rock on a rib that leads directly to the summit. Follow this to the top. The east ridge can be gained at about half height from the Avoca Glacier.

Edgar R Williams, R E McInnes, R E (Gran) Clark, November 1930

South Face

Straightforward mixed climbing from the Avoca Valley.

Ian Crozier, Manfred Ingerfeld, November 1977

BS
From Burnett Stream

About 4 km from Weka-Burnett Bivouac take a prominent scree gully south of Pt 1598 metres. From the head of the scree traverse north to avoid bluffs and aim for the base of a broad ramp leading to the summit. Scramble over the last steep loose rock to the top. This route is tricky when there is no consolidated snow.
Attribution:
Gramae Kates. Yvonne Cook and Geoff Spearpoint, in association with the Canterbury Mountaineering Club
UUID:
49f0be75-4fb9-4ada-b05e-30889f54cec0