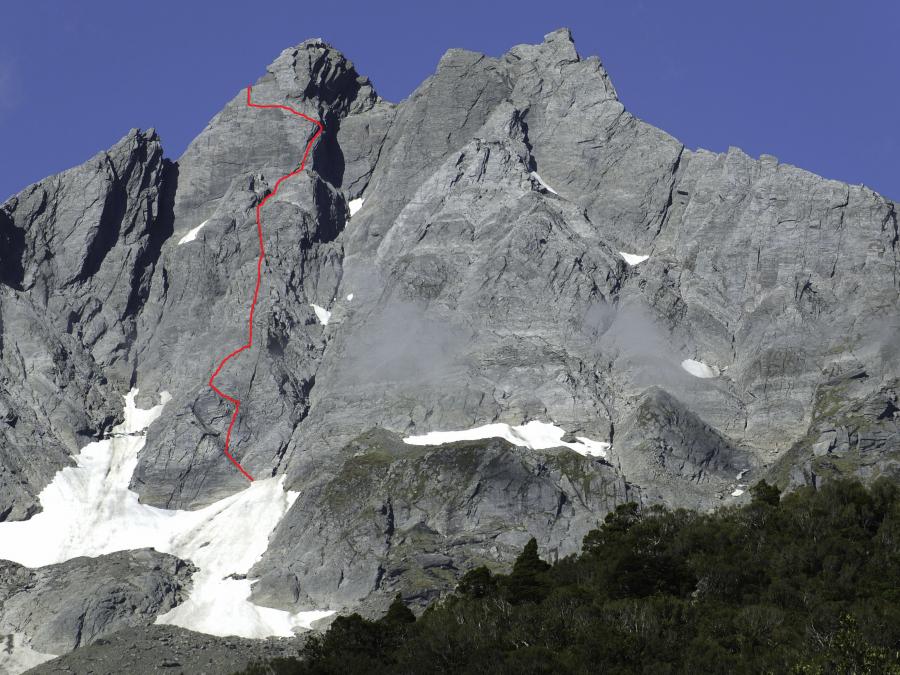 Reference
Title
Grade
Length
Quality
Bolts
Gone
Natural pro
Link to edit content
The Architect
4- 16
500m

3 pitches of variable quality rock lead into moderate scrambling through the middle section of the west face. As the face steepens again, trend rightwards aiming for the large ledge overhanging the central gully. An exposed but short step leads back onto the slabs, which are traversed to the final pitch on the NE aspect. Good quality rock on upper sections, crux grade 16.

Steve & Pete Harris, 2014

From Bannister Rock
III 3

The route of the first ascent of Lyttle Peak is unknown, but the easiest route appears to gain the steep south-eastern snow face at the bottom left, through a break in the line of bluffs below the face. To reach this point from the Lyttle-Darkwater confluence, ascend a tussock ridge past numerous large boulders, an then traverse north across the top of a prominent waterfall to gain a sloping shelf leading towards Lyttle Peak.

Tom Sheerhan, George Bannister, 1931

North Ridge

No recorded ascent from Architect Creek. From Whales Saddle there is a steep, unclimbed rock step on the ridge between 1600m and 1700m. The upper part of the ridge can be accessed at 1880m via a snow gully from the head of Architect Creek. The upper ridge was descended by Pete Harris and Steve Harris in April 2014.
Attribution:
c/- Rob Frost http://climber.co.nz/85/feature/no-recorded-ascent
UUID:
0c963379-c543-4e92-9593-51adf2aa1adc