This dark wall gives sustained face climbing on some of the best routes at the bay.
Access:
Climb down the tricky slab below the Seaward Face to sea level, and step across to the boulders. When the tide is in you may need to descend higher up, down a short steep wall (the start of Maui), or a short abseil off the belay of Black Back Cleft.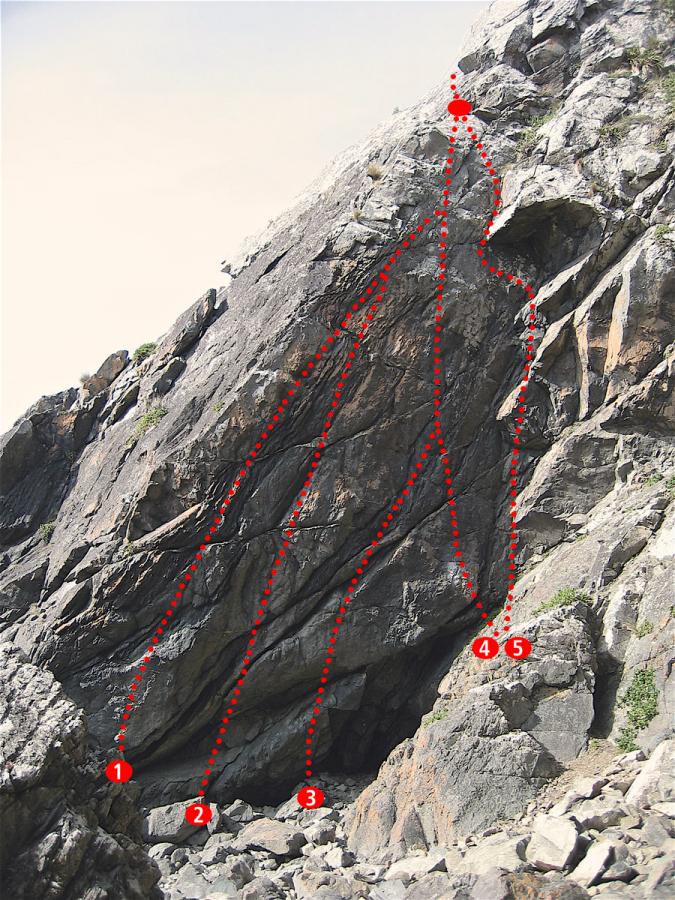 Reference
Title
Grade
Length
Quality
Bolts
Gone
Natural pro
Link to edit content
1
Unknown Pleasures
22
20m
6

Climbs the arete left of My Pleasure Is Your Pain, on its right side (ie. the steep side, not the slabby side). Crux moves at the bottom lead to steady-as-she-goes stuff above.

John Palmer 2014

2
My Pleasure Is Your Pain
23
24m
5

Start in the overhanging scoop at beach level. Stick clip the first bolt; gear can slide in the dirty cracks and can cause rope drag. Sustained climbing, eventually finishing up Regular Rowt.

Jon Rosemergy, 1995

The OG
20
24m
7
1

Regular Rowt regularised – the way it should always have gone. Stick clip the first bolt and start off the block below My Pleasure Is Your Pain. The pumpy traverse right, past another two bolts, leads to steady face climbing.

Richard Thomson, May 2021

3
Christmas Spirit Variant
19
24m
5

From the beach, this direct start to Regular Rowt is now superceded (with the first ascentionist's blessing) by a fully bolted version. It headed over the bulge (crux) on trad gear past two diagonal cracks (#1-2 cams) and right to a bolt.

Jon Rosemergy, 1995

4
Regular Rowt
18
22m
5
1

A justified consumer classic! First led with two bolts and a cam in the roof of Mordor. Five new bolts were placed in a burst of Christmas spirit on 25 December 1994 by Jon Rosemergy with Toby and Gwilym Griffith-Jones. Clip the first bolt from the ledge and climb the wall direct to a double bolt belay. Crux is above the fourth bolt.

Richard Thomson, August 1984

5
Mordor
16,14
45m

A fine route, especially the first pitch up the prominent corner capped by a large roof. Footage of climbers on the route features in the 1977 film A Nice Sort of Day: http://www.nzonscreen.com/title/a-nice-sort-of-day-1977.

#
Ewbank
Alpine (Technical)
Alpine (Commitment)
Alpine (Mt Cook)
Aid
Water Ice
Mixed
Boulder (Hueco)
Length
Bolts
Trad
1
16
22

m

Yes

The corner is a little loose, but good gear can be arranged under the roof. Around this and up the top corner to the Regular Rowt belay.

2
14
23

m

Yes

Trend left up the slab into the upper corner (2 pitons), then on to the top of the Pinnacle.
UUID:
2087ce6b-129a-4879-a481-7f33c779ccad