The routes on this wall, on the right, seaward end of the Nose area, cover more friendly terrain on some of the better rock at Titahi Bay.
Belay anchors were replaced with 110mm titanium glue-in bolts November 2017.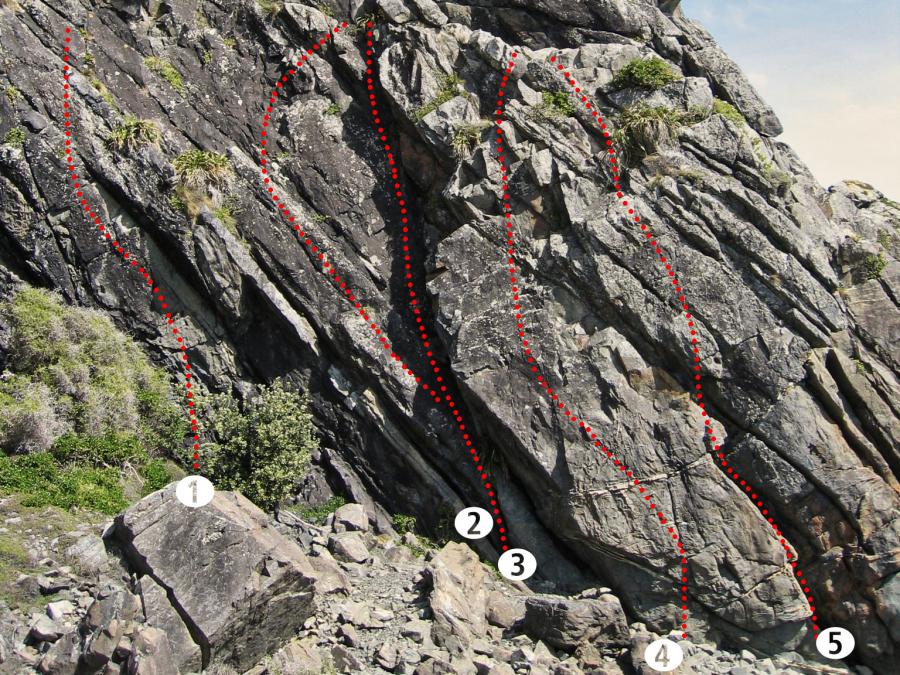 Reference
Title
Grade
Length
Quality
Bolts
Gone
Natural pro
Link to edit content
1
Boxthorn Crack
17
12m

Not really a crack but good climbing on pockets. Tiptoe over the overlap and finish either left to the first pitch belay on Gobeys Nose, or right to the Slab belay.

2
The Ramp
12
15m

Up the chimney and out onto the left wall. Near the top head back right on good holds to the Slab belay. DRB belays rebolted 2017.

3
Limpet Groove
11
15m

Stay in the chimney the whole way. DRB belays rebolted 2017.

Delaminate Eliminate
V2

Climb the overhanging wall from a sit start, on to the slab of Plimsoll.

Richard Thomson, February 1994

4
Plimsoll
13
15m

Climb the gorgeous slab and blocks to a double bolt belay. DRB belays rebolted 2017.

5
Rebuke
13
15m

The big crack and wall above, heading slightly left to the double bolt belay. DRB belays rebolted 2017.

Nurk Route
13
12m

The corner at the right-hand end of the wall with a small roof. Either step left under the roof on to a slab, or follow the crack over the roof (harder).
UUID:
92011e32-9e2d-4e2f-88d2-a46c08e44ea7