A large steep cave just south of the Dionysiac Slab. Named after Nobby Clark, a hermit who once lived there. All routes are fully bolted and share a double bolt anchor.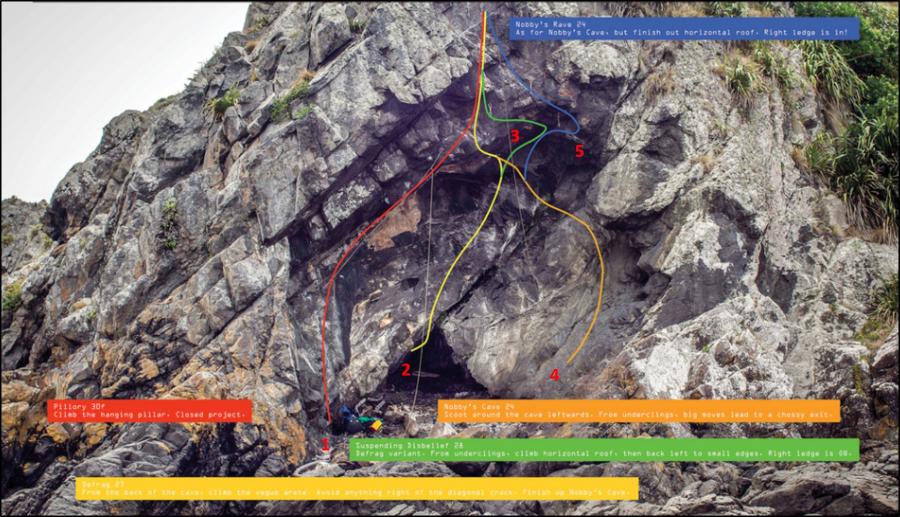 Reference
Title
Grade
Length
Quality
Bolts
Gone
Natural pro
Link to edit content
1
Pillory (Open Project)
30
8m
1

Climb the hanging pillar.

Firewall
29
8m
5

The bolted line left of Defrag. Boulder to the large undercling feature. after a shake, get horizontal out left, pull the lip and truck back right to the common anchor.

John Palmer 2015

2
Defrag
27
8m

From the back of the cave climb the vague arête. Avoid anything right of the diagonal crack, finish up Nobby's Cave.

John Palmer

3
Suspending Disbelief
28
8m

A 'Defrag' variant. From underclings climb horizontal roof then back to small edges. Right ledge is out.

John Palmer

4
Nobby's Cave
24
5

Start on the shelf on the right side of the cave and climb left to the upper lip. Two ropes will reduce drag, and a preplaced extended quickdraw at the fourth bolt may be useful.

Martin Wilson, 2001

5
Nobby's Rave
24
8m

As for Nobbys Cave but finish out horizontal roof. Right ledge is in.

John Palmer
Attribution:
Beta and photo courtesy of John Palmer.
UUID:
b4090495-84fe-41b5-9ebc-3ad0983847c5