One of the more pleasant walls at Baring Head for easier climbs. The aspect is sunny, the rock is nice and there is a good variety of short and long climbs.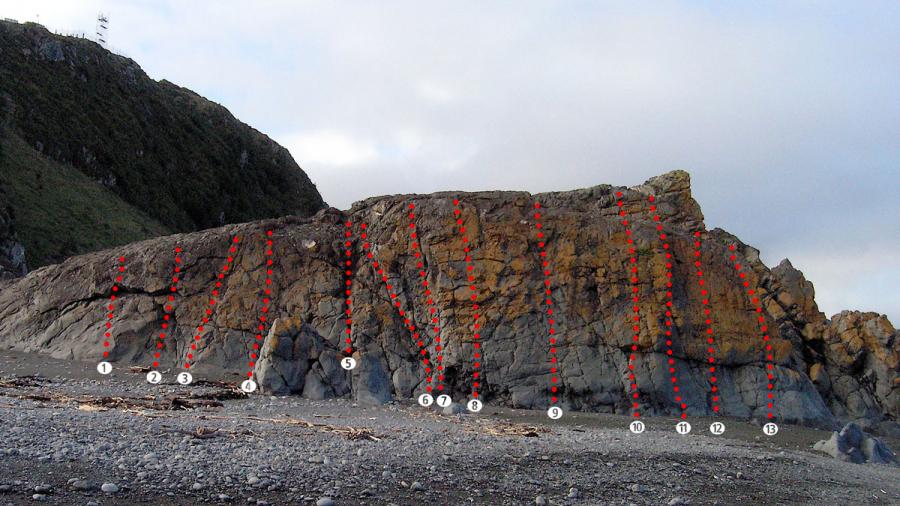 Reference
Title
Grade
Length
Quality
Bolts
Gone
Natural pro
Link to edit content
A
Left Traverse
VM

An interesting long traverse. The crux is getting through the initial scoop. You can make it easier or harder depending on where you draw the upper line.

1
Unnamed
VE

Climb smooth rock just left of the alcove, then over the bulge at the top.

2
Unnamed
VE

A big flake leads to the ledge, followed by committing moves over a bulge.

3
Unnamed
VE

The vague groove.

4
Unnamed
VE

Climb directly up the middle of the wall.

5
Unnamed
VM

Follow the wide crack. Steep climbing on large but sloping holds.

6
Unnamed
VE

A variety of starts gain the diagonal ledge leading to the top.

7
Unnamed
VE

Delightful. A good flake and line of jugs just right of the ramp.

8
Unnamed
VE

A short bulge leads to easier climbing.

9
Unnamed
VE

A tricky start leads to easier climbing.

10
Unnamed
VE

Straight up just left of the blunt arete. A tricky move at half height.

11
Unnamed
V0

The smooth face just right of the arete. Do not use holds left of the arete.

12
Unnamed
VM

Difficult moves over the smooth bulge relent higher up.

13
Right Arete
VE

A crack leads through the bulge and on to the arete.
UUID:
829d5742-6320-4b0b-95e2-557c772f8685