The right-hand end of the Overhanging Wall is shorter and easier, but very pleasant all the same.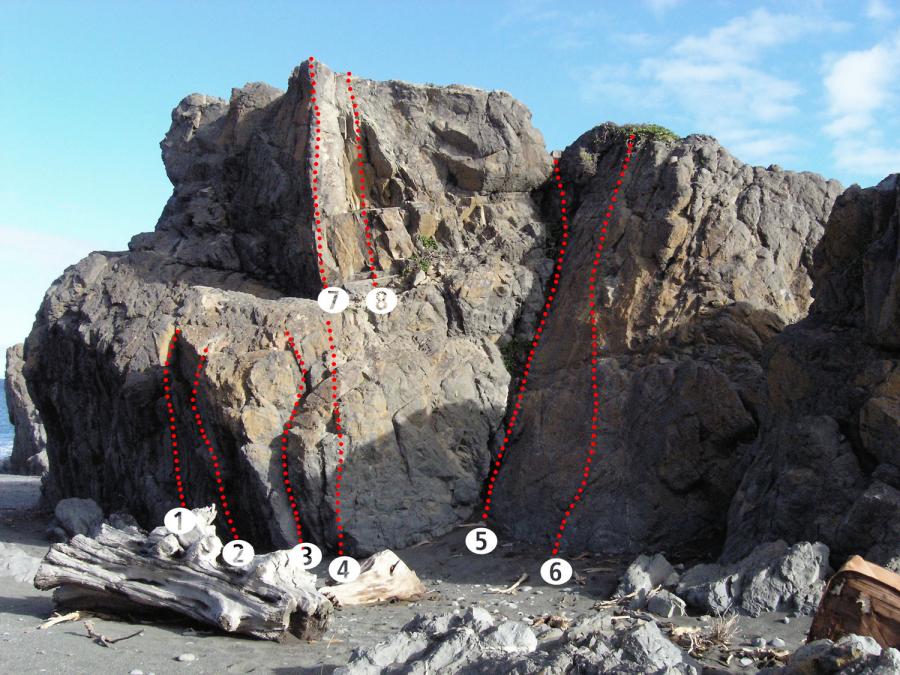 Reference
Title
Grade
Length
Quality
Bolts
Gone
Natural pro
Link to edit content
A
Grand Traverse
V6

Starting at the far right end of the wall, traverse left all the way.

Gary Wallace

1
Safe As Houses
V0

Hard moves off the ground, which ease off once standing on the obvious ledge. A good hold up high on the left helps. Finish rightward, trying to avoid the hanging block on the left (which is loose).

2
Sharpie
VM

Climb directly up right of the previous route.

3
Dülfer
VE

A classic. Layback the crack and move out right towards the top.

4
Little Beauty
VE

Climb the short wall. A beautiful problem.

5
Simple Corner
VE

Easy and fun bridging all the way up the corner to the top.

6
Tennis Shoe
VE

Climb the large slab. Above half-way up move left towards the centre and climb directly up past a few thin moves. For a challenge try climbing it without your hands.

7
High Arête
VM

Dangerously exposed. Climb the arête.

8
Alpine Route
VM

For a certain kind of boulderer. Beware of suspect rock.
UUID:
8ce5caf0-779d-4ad5-8013-5b617b578025