The Long Wall is the most popular wall at Baring Head. Facing west, it catches the afternoon sun so is normally dry and pleasant. It offers a good variety of routes and a mixture of grades.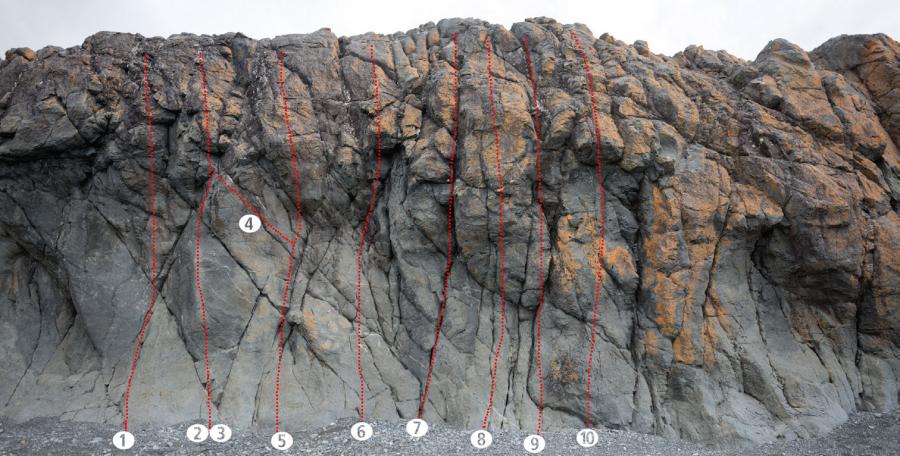 Reference
Title
Grade
Length
Quality
Bolts
Gone
Natural pro
Link to edit content
1
Swinging Groove
V2

Climb the groove right of the Swinging Dyno bulge.

Pure and Easy
V4

An eliminate start to Swinging Groove.

Phil Castle

2
Right Groove
V1

Up the next groove. This version uses everything.

3
Eliminate Groove
V2

This better version heads straight up, avoiding the side-pulls in the crack.

4
D-Ring
V1

First climbed in Anson D-Ring boots by traversing in from the right. You have no excuses!

Dick Corin

5
Mike's Arete
V3

Climb the arete direct without bridging out.

Mike Casey

6
Blockout
V0

Start in the scoop, but veer right to gain the obvious block. Finish more-or-less straight up, avoiding the temptation to step right.

7
The Fissure
VM

A few tenuous moves to gain a good undercling (the key being to get it with your left hand). Reach high for a rounded edge then crank through to a good jug. Finish straight up.

8
Skinny Pillar
V2

Climb the pillar, avoiding the adjacent cracks at all times.

9
The Layback
VM

Looks easy doesn't it! Semi-layback up the corner.

10
The Niche
V2

Climb directly up the middle of the alcove avoiding the adjacent cracks.
UUID:
20a2860a-04d1-4284-afc8-0f7fb51c2000