This is the area on the east (back) side of the Long Wall – and the first wall that you come to walking along the beach from the car park.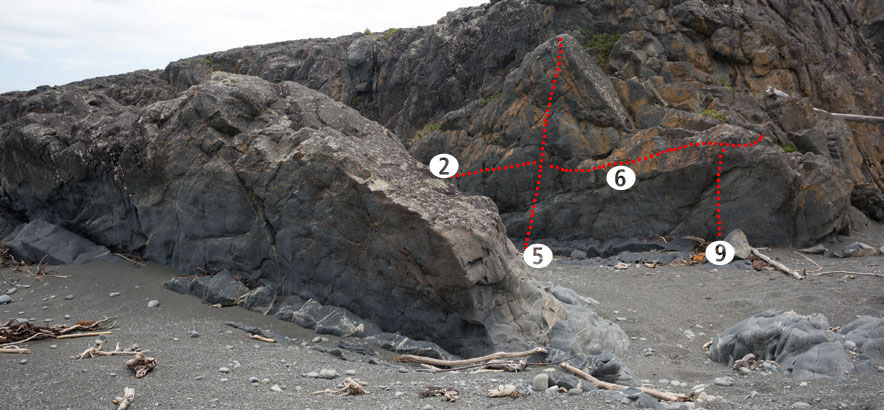 Reference
Title
Grade
Length
Quality
Bolts
Gone
Natural pro
Link to edit content
1
Unnamed
VE

Climb the wall at the one point where the landing is okay.

2
Break Traverse
VM

Traverse the wall left to right, to just past Mint. Finishing up Mint is a good, more sustained alternative.

3
Das Feuer Problem
V7

Super-technical and sustained. Start where the Break Traverse does, but use crimpy holds below the break. Finish up Jaded.

Kristen Foley, 2004

4
Jaded
V5

Sit start and, staying below the left-right diagonal seam, climb up and right. Keep feet off the ramp and finish up and around the arete.

Derek Thatcher, 2000

5
Mint
V0

Straight up the pyramid. Avoid the temptation to stray left. (A good diagonal for the left hand helps.)

6
Mikeʻs Traverse
V3

A good workout! Continue the Break Traverse.

Mike Rockell

7
Super Low Traverse
V6

A shouldery and super pumpy left-to-right traverse with very few footholds. No heel-hooking for the grade.

8
The Limbo
V7

Uses even lower holds the the Super Low Traverse.

Derek Thatcher, 2000

9
Steve Conn Power Test #1
V5

Sit start on the large, unhelpful undercling, pull on and slap wildly for the top. You can link into the Super Low Traverse in reverse at V6.

10
Unnamed
VE

This and the next climb are in the Entrance Way itself on the northern face. Climb the slab any way you want.

11
Unnamed
VE

Nice climbing on the arete at the right side of the slab. Use flakes around the corner to start. The crux is a friction step-up onto the arete, near the bottom.
UUID:
243e9c82-934c-44e7-b419-f1b9d182d0e0