Continue down the main farm track, just over the next rise and on your right is a hill with 3
buttresses. The higher buttress & middle buttress (Mr & Mrs Enormous) and the red block
buttress at the base. Routes described from left to right (from the base of the hill up) and
the first route starts on the small west face of the red block buttress.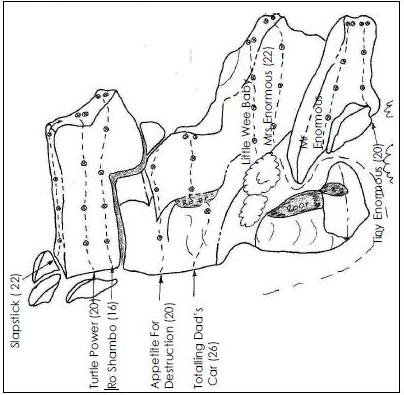 Reference
Title
Grade
Length
Quality
Bolts
Gone
Natural pro
Link to edit content
Slapstick
22
10m
4

Starting from the boulder climb the face then slap your way up the right arete. Move left at the top onto the left arete. This route has been rebolted and the new hanging belay is right in the middle of the crux, so to savor all this climb has to offer, clip the belay and top out, belay off the original belay higher up.

Bryce Martin , Luke Newnham 16-12-90

Turtle Power
20
15m
4

Around the corner on the south facing wall. Climb the middle of the red face. Hard moves at the start and finish.

Bryce Martin , Luke Newnham 24-11-90

Ro Shambo
16
10m
3

Climb the arete on the right hand end of the lower wall. (DBC belay)

Kerry Sutter 1998

Appetite For Destruction
20
10m
3

Climb the small right facing corner to the right of the roof, then up the small head wall.

Harry Turner, James Wright 9-2-91.

Totalling Dad's Car
26
8m
3

The obvious roof. Climb through the roof and pull onto the short head wall above. (DRB, belay)

Luke Newnham, 23-2-92

Little Wee Baby Enormous
19
10m
3

The next 2 routes are on the middle buttress, access is gained by scrambling up to the right

Dave Vass

Mrs Enormous
22
10m
3

Climb the right hand end of the middle tower.

Dave Vass

Mr Enormous
22
10m
3

The routes on the top tower

Dave Vass

Tiny Enormous
20
10m
2

Start off the large boulder and continue up the short head wall.

Simon Barnett 1998

Lad
23
6m
2

On a free standing pinnacle 10m to the right.

Andrew Wilson, Luke Hawken.
UUID:
a7186576-7602-4430-9458-7f4e1f0a9109