Directly opposite the Little Spurt Wall on the right hand side of the gully is the first major
wall in Animal Biscuit Valley.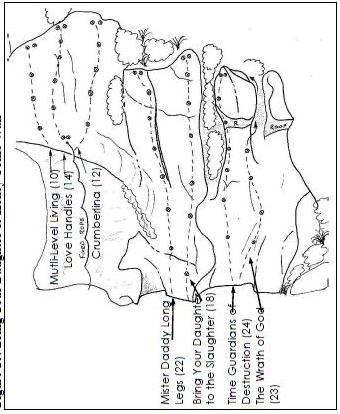 Reference
Title
Grade
Length
Quality
Bolts
Gone
Natural pro
Link to edit content
Mister Daddy Long Legs
22
20m
5

Another quality line. Start up the small wall to the right of the cave then up the scoop. Climb through the scoop onto the rib above (crux) and layback the rib to the top.

Bring Your Daughter to the Slaughter
18
25m
8

A classic line that climbs the arete and steep head wall on large holds. A hard start with a another difficult section past the 3rd bolt, however the crux is right at the top, originally graded 17 this move is still considered hard for 18.

Bryan Moore, Bryce Martin, 12-4-91

Time Guardians of Destruction
24
25m
6

Starts in the same area as The Wrath of God but climbs straight up the black streak and up the head wall just to the right of the scrubby gully.

The Wrath of God
23
25m
7

Climb the large scoop and slab then move left onto the head wall (crux) climb round to the right of the top arete to the belay.

Slab of bolts
18
8m
3

Climb the slab past 3 bolts. DBC belay.
UUID:
7fe71425-ecdc-4981-b5d1-ff3bef99e3d9