When driving down the access track the first major cliff faces you see are the Hold onto
your Face and the Bete Noir Walls. Climb up the hill, just left of the fence, to the base of
the Bete Noir Wall.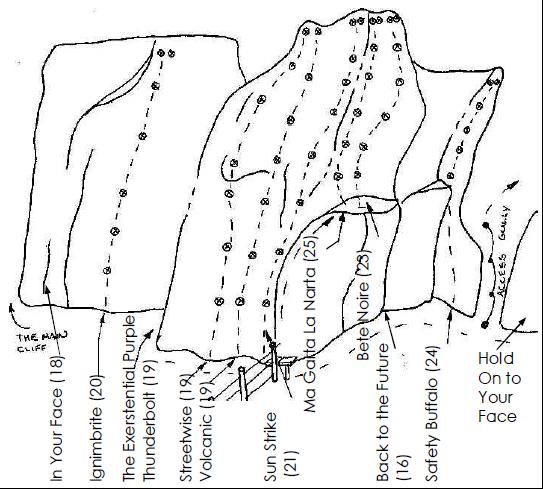 Reference
Title
Grade
Length
Quality
Bolts
Gone
Natural pro
Link to edit content
In Your Face
18
20m

In Your Face a trad route right in the middle of sport climbing territory. Wide Bridging up the groove right of Safe Playing . Turn right at the overhang and then continue up the arete to the top of Ignimbrite. (Pro LCD,CD,W)

Dave Garrity, Bryce Martin 1999.

Ignimbrite
20
20m
7

Climb the face past 7 bolts to the top, DRB belay.

The Exerstential Purple Thunderbolt
19
18m
6

Climb the face DRB belay,

Simon Cook

Streetwise
19
18m
6

Starts in the groove and then climbs the over hanging face above.

Bryce Martin, Roger Bays. 19-11-90

Volcanic
19
18m
7

The line immediately left of the fence. Steep start moves then eases off higher up.

Luke Newnham. 3-91

Sun Strike
21
10m
7

Climb the line of bolts immediately above the fence. Move left onto the face then back right and follow the arete to the top

Luke Newnham, Bryan Moore, Bryce Martin 9-6-90

Ma Garta La Narta
25
15m
4

Starts off the left hand end of the ledge and climbs directly up the face to the right of the arete. The original line started as for Bete Noir and then traversed left at the second bolt.

Dave Vass 1991

Bête Noire
23
15m
5

From the middle of the ledge climb straight up past 2 bolts then a couple of moves up & right (crux) onto the arete. Climb the face & shallow arete.

Luke Newnham Bryce Martin 9-6-90

Back to the Future
16
15m

The crack system to the left of Safety Buffalo. (Pro, Trad & Tree belay)

Bryce Martin, Kevin Barratt 18-3-99

Safety Buffalo
24
10m
4

Scramble up on to the ledge, then climb the overhanging face above.

Ton Snelder 1993.
UUID:
380f5246-8d13-43e4-bd44-78e0c6c34ba8