A uniquely adventurous new wall at Kawakawa Bay which requires you to abseil in to just
above the water line, build a trad belay and climb out. Trust us it's heaps of fun!
Access:
The easiest way to get to the small ledges (that might be just edges) above the water
line is to climb Park in the Walk or Benny's Magical Koura Circus to the chain anchor and
abseil off that, taking great care not to get your ropes wet! The first three routes from left can be accessed from BMKC anchors. To access FF and SC, walk along the bushy ledge from the BMKC anchors for 20 metres and abseil in from a rock or tree anchor. First person down builds the
trad anchor.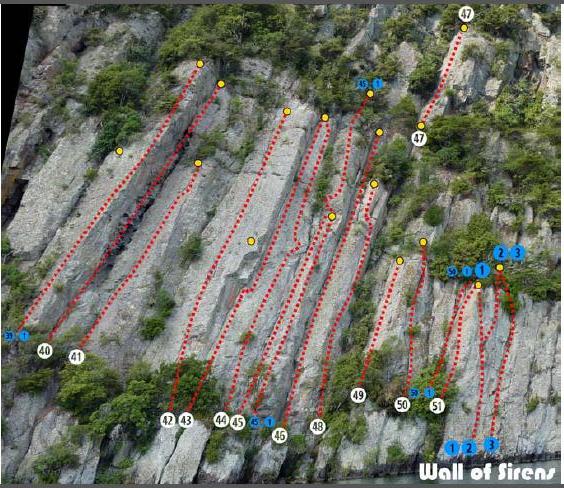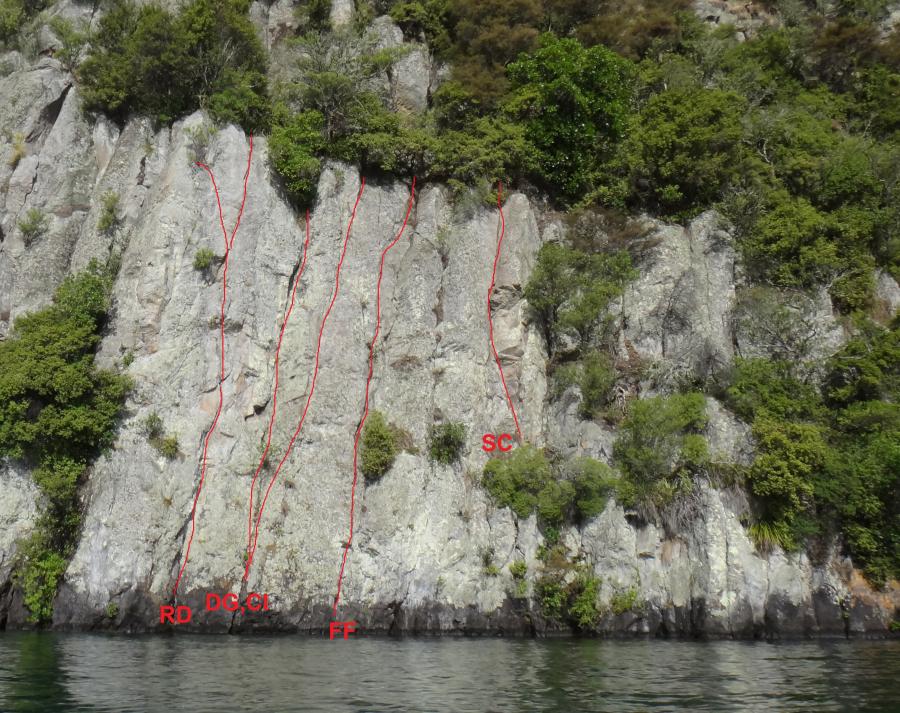 Reference
Title
Grade
Length
Quality
Bolts
Gone
Natural pro
Link to edit content
RD
Rain Dogs
19
22m

From the small belay ledge climb the finger and hand crack through the overhang. Once on the ledge move left to finish on the anchors of Benny's Magical Koura Circus. "Inside a broken clock. Splashing the wine, With all the Rain Dogs" -

Tom Waits. Gerard Tarr, Andrew Scott, Rob Addis March 2012

Rain Dogs Direct
20
22m

As for Rain Dogs but from the ledge climb the finger crack direct up into the bush for an exciting finish. Belay off trees on the bushy ledge.

Rob Addis, Gerard Tarr April 2012

DG
Delusions of Grandure
17
22m

From the belay climb the easy corner following the crack to the crux finish.

Andrew Scott, Emiliano Lardone Casenave Baravalle, Rob Addis March 2012

CI
Cirencester
20
22m

Build a belay as for DG and climb the slight arete on the wall straight up veering right onto the top exit slab.

Tim Exley, Alastair McDowell, Jan 2015

FF
Femme Fatale
19
22m

Climb the continuous snaking crack from the waterline straight up, starting as a wide blocky fist crack and narrows to fingers with balancy lay-backing at two-thirds height (crux).

Alastair McDowell, Tim Exley, Jan 2015

Lakeside Sewing Machine
19
22m

A pumpy start leads to easier climbing up the dihedral. Decent gear, a single rack of cams and a good selection of nuts is sufficient. Climb is located between Femme Fatale and Siren's Call.

Sam Lancaster-Robertson & Rafael White, December 2020

SC
Siren's Call
18
16m

Build a belay 6 metres above the waterline on a vegetated ledge. Climb the corner with two staggered overhangs with good holds, finish up the slab. Well protected.

Tim Exley, Alastair McDowell, Jan 2015
UUID:
d4428b58-5956-4a82-a3ff-0b68d702f49b