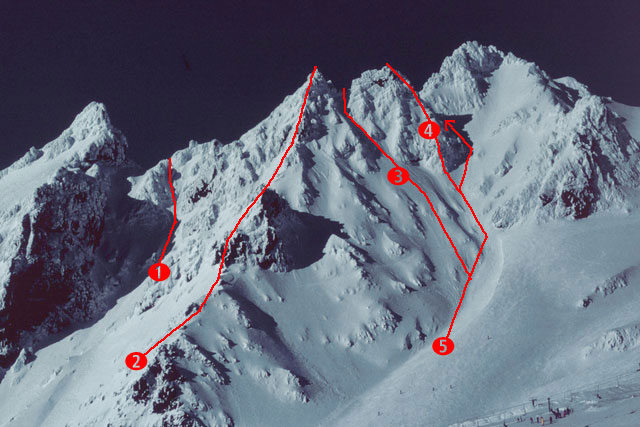 Reference
Title
Grade
Length
Quality
Bolts
Gone
Natural pro
Link to edit content
1
Alf's Big Day Out
30m

A short bit of fun up a dribble of ice to a small snow patch and the ridge.

Mike Peat, Matt Quirke, Alf Walsh, August 1996

2
West Ridge
200m

A charming line. The lower gendarme can be easily avoided by climbing to the col beyond from the south side, but there are more tricky sections towards the top.

3
High Col Route
200m

A gully line leads to the col high on Second Pinnacle between its two peaks.

4
South West Buttress

From low in Gully 2, climb the buttress on the southern of the two peaks.

5
Gully 2

The gully between the First and Second Pinnacles provides direct and rapid access to (or off) the ridge.
UUID:
ce3f5bd0-0d33-4ee7-af2b-5011ee5bbd16