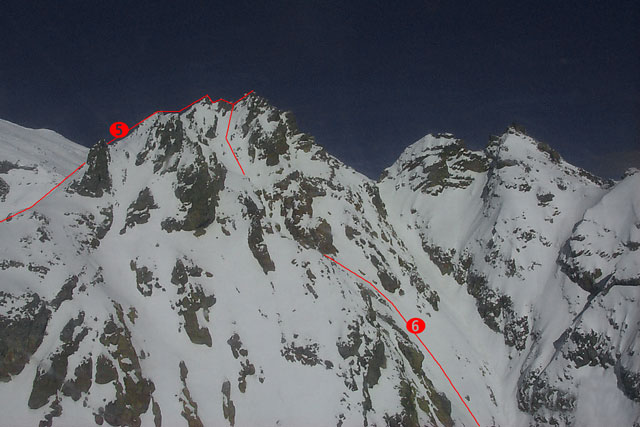 Reference
Title
Grade
Length
Quality
Bolts
Gone
Natural pro
Link to edit content
1
Zig-Zag Gully
160m

Only really much of a zig-zag in summer. Leave Gully 2 where it turns towards the col, and follow the broad, shallow gully to a notch in the ridge between First Pinnacle and the gendarme at the top of its West Ridge.

2
West Face

Climb out of Zig-Zag Gully and direct to the top.

3
West Ridge
130m

Gain the col beyond Pink Floyd Buttress from either side, and continue up the ridge to the summit. Alternatively (but significantly harder), start with Wish You Were Here on the toe of Pink Floyd Buttress.

4
South East Face
250m

In the right conditions this looks to be a nice, straightforward climb.

5
North East Ridge
350m

A good line that unfortunately tends to soften very quickly once the sun hits it.

6
North Face
350m

A gully runs direct to the summit. Again, watch for soft conditions.
UUID:
63bd253d-4189-4672-b1af-5b31256452c4