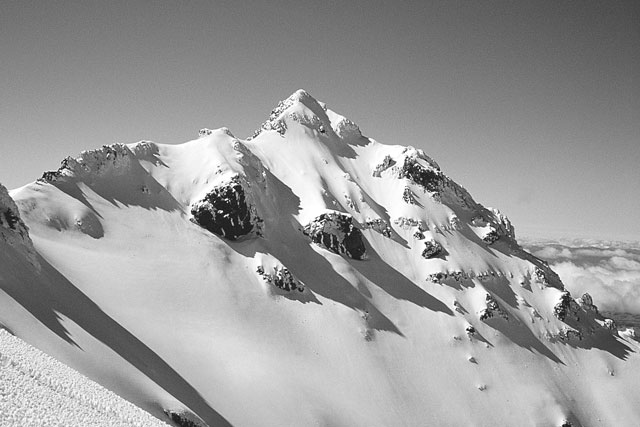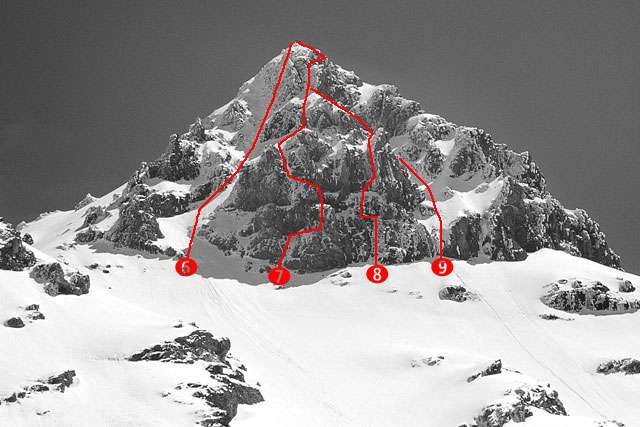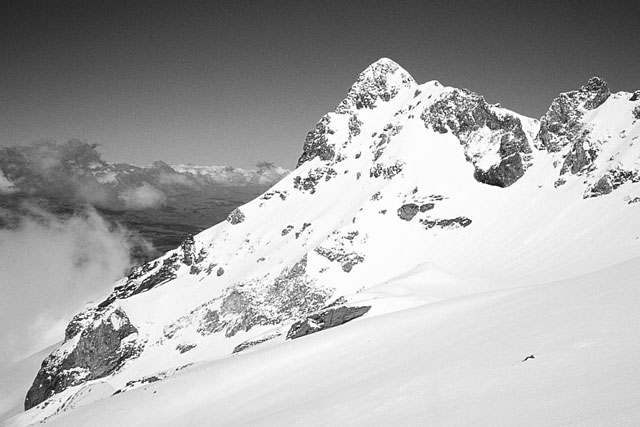 Reference
Title
Grade
Length
Quality
Bolts
Gone
Natural pro
Link to edit content
Voie Normale
250m

Climb to the col at the head of the Mangaehuehu Glacier. From the col, head along the ridge, usually turning any difficulties on the western side. A nice summer or winter climb.

Mangaehuehu Face
200m

This route wends its way through outcrops up the face above the glacier.

South West Buttress
300m

A prominent line with no real difficulties.

South Face
300m

The southern aspects of Girdlestone are a popular choice for simple but satisfying routes, especially for practising pitched climbing. The southwestern aspects are often icier, with more rock outcrops and devious routefinding through gullies and chutes. The more open southern flank, in contrast, has reasonably clear travel especially higher on the peak. A roundabout but straightforward route starts on the eastern side of the face and climbs in a generally clockwise direction to finish up the Southwest Buttress.

Cumulonimbus Corner
WI2 M3
60m

Obvious corner in the rock buttress on the South Face of Girdlestone. One 60m Pitch. First up a rock corner with 2 more steps \ corners of 75% ice above. Good rock and ice protection. Descend by traversing 60m towards the SE ridge to gully which may be down climbed.

Rob Addis, Magnus Hammarshal August 2011

South East Buttress
II 3 2 12
300m
3
1

An adventurous summer line on variable rock. There is a spectacular hole ('The Window') in the lower ridge. A favourite climb of Horace Holl.

Horace Holl, early twentieth century

6
Major Gully
200m

Major gully lines head up each side of the South East Face. The left-hand gully gives straightforward climbing initially, but conditions steepen near the top.

7
Blindsight
200m

A mixed route on the central buttress of the South East Face. Five pitches.

Travis Holman and Romaric Vincent, 2007

8
Wake Up Call
II 3
200m
2

An excellent mixed route on the central buttress of the South East Face. Five pitches.

Travis Holman and Graham Johnson, September 2008

9
Minor Gully
200m

The steep initial step comes and goes, depending on winter snowfalls.

East Buttress
350m

The somewhat intimidating buttress that leers up from the base of the Wahianoa Glacier. Has a nice, exposed aspect. Mark Prebble (who later became State Services Commissioner — the country's chief civil servant) is rumoured to have had an epic here in the 1970s.

East Face
250m

Climb straight out of the Wahianoa basin, topping out on the flat section of the North Ridge (Voie Normale), just below the summit pyramid.

East Face Gully
100m

The large gully on Girdlestone's eastern flank, leading to the low col on the Girdlestone–Tahurangi ridge, and the beginning of the Voie Normale. Note that if you are crossing from the Wahianoa to the Mangaehuehu Glacier, it is better to aim for the high flat point on the ridge at about 2600m, grid ref 313092.
Places
Type
Title
Link to edit content
Mountain
The Gendarme

(0 routes)
UUID:
37479858-2ca9-44f6-bbd8-68f64faaf6ae