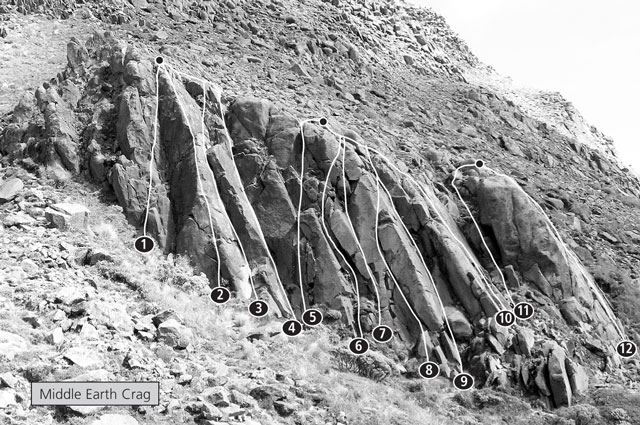 Reference
Title
Grade
Length
Quality
Bolts
Gone
Natural pro
Link to edit content
1
Gandalf
11

Climb easily up to the ledge and then up the wide crack on the left, to a spike on the face a little above half height. Stand on this and step right to climb to the top.

2
Arête Of Despair
21

Top-roped only. The lack of runners would make this a bold lead. Climb straight up the flattish arête, marked by an obvious patch of orange lichen.

3
Baggins
15

Layback or bridge the bottom corner, then jam and bridge through the bulge to easier ground above.

4
Bilbo
14

The second layback crack has a short, strenuous start before reaching easier blocky ground.

5
Shadowfax
12

Climb the two converging cracks to a ledge, move up to another ledge, then tackle the final chimney/corner.

6
Mordor
12

This left-sloping chimney can lead to the finish of Shadowfax. Alternately, finish up the blocky face.

7
Gollum
15

Climb up to a finger crack, which is laybacked to a ledge. Straight up to finish.

8
Unclimbed Crack
16

Starts as a handcrack but blanks out at the top. Strenuous moves on large holds lead out of the crack onto the right arête. Finish up Frodo.

9
Frodo
10

Climbs cracks in the slab.

10
Hobbit Hill Slab
10

The slab right of Frodo.

11
Easy Gully
4

Climb easily up the blocks in the obvious gully. Take care though: some of the blocks are loose.

12
Rivendell Arete
14

Climb the arête on the left of the slab (easier if you step right).

12
Rivendell Slab
10

There are three routes on this slab, graded 9–10.
UUID:
bfdd5dbb-a9c0-4bc9-b86e-90df3bbd6dce