The west side of Hotu Cliffs.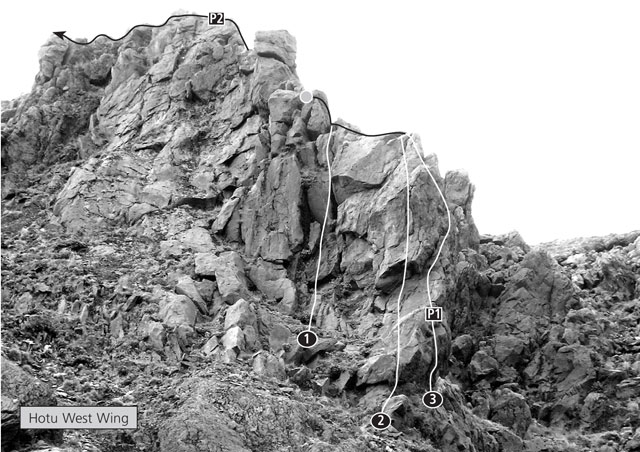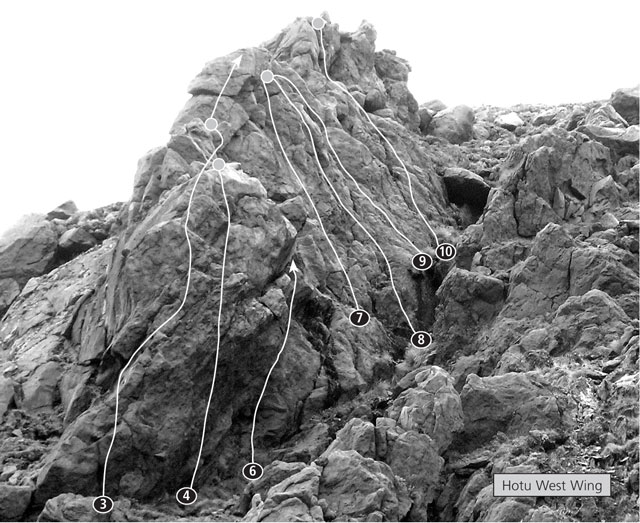 Reference
Title
Grade
Length
Quality
Bolts
Gone
Natural pro
Link to edit content
1
The Shrinker
14
15m

Climb up the chimney on the back side of the cioch.

2
Tender Touch
18
15m

On the left side of this cliff, just a few metres from the bottom end of the buttress it forms, is an overhanging wall. Climb this onto a small ramp that leads to an obvious weakness/crack through a second overhanging wall. The small loose block in the crack provides the crux.

Ray Button, 27 March 1983

3
Cioch
14 ,14
70m

Pronounced key-och: a gable shaped piece of rock. This is a superb climb and starts just right of the bottom of the buttress. @todo: Not sure about split of lengths, but 70m total in text

#
Ewbank
Alpine (Technical)
Alpine (Commitment)
Alpine (Mt Cook)
Aid
Water Ice
Mixed
Boulder (Hueco)
Length
Bolts
Trad
1
14
20

m

Yes

Make a strenuous move to get off the ground and then climb the crest of the buttress, tending right after 10m into a steep groove that exits onto a ledge. Move a short distance along the ledge, then climb up to the crest and along this a short way to belay.

2
14
50

m

Yes

Stay on the crest and climb delicately over the cioch. An easier alternative is to climb the corner on the right of the cioch.

Graeme Dingle, 1972

4
Not Feasybull
18
15m

A strenuous, awkward climb up the gently overhanging wall to the right of Cioch. Struggle up to and around the dubious-looking flake. Often top-roped. A good belay can be arranged a few metres below the ridge.

Merv English, 1974 (had been previously top-roped)

5
Mad Movies
A3
15m

Climb the steep wall on aid and move left onto the flake of Not Feasybull.

Merv English, 1974

6
Blood
14
15m

Strenuous. Climb directly up the steep groove and over a small overhang at the top to ledges. A better alternative climbs out onto the right-hand wall, and up to big holds, then back left to the overhang.

Merv English, with OPC students, 1973

7
Just Feasybull
12
15m

Start directly below the cioch. Climb the groove (one thin move in the middle) then the crack that leads to the crest beside the cioch.

Graeme Dingle, 1973

8
Potrezebie Left
12
15m

Start just left of an easy angled corner and climb straight up to a groove notable for a little jug handle formation at its base. Up the groove to a good spike belay.

Noel Sissons, 1972

9
Potrezebie
12
15m

Up over knobbly rock into an easy-angled corner; up this to the top.

Noel Sissons, 1972

10
Potrezebie Right
9
15m

More or less anywhere over easy rock at the right end of the West Wing.

Noel Sissons, 1972

11
Cleft Chimney
13
10m

The chimney climb at the top right side of the wall.
UUID:
815b4742-2859-4f0f-8586-79e8ffb10767