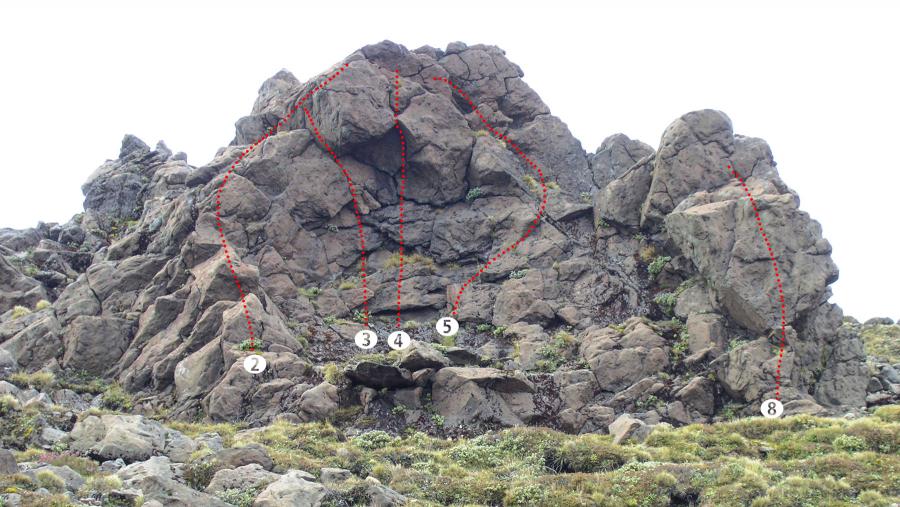 Reference
Title
Grade
Length
Quality
Bolts
Gone
Natural pro
Link to edit content
1
Piker
8
10m

A series of blocks and cracks is climbed to the top.

2
The Gallery
8
10m

Follow the small buttress consisting of two blocks which joins Piker at the top.

3
Hangman
14
10m

Up to the left end of the small overhang, then diagonally left up a thin crack.

4
The Gallows
15
10m

An excellent route with good protection. The direct line through the overhang.

5
The Fly
10
10m

A rising traverse to the right, to join the obvious ramp leading up left to the top.

6
Fly Direct
12
10m

Start as for The Fly, but climb direct to the ramp via a small corner.

7
Cleavage
14
10m

Climb the short crack in the corner.

8
Reach For the Sky
13
10m

An obvious blocky buttress is climbed straight up a small wall to the top.

9
Orangoutang
14
10m

Climb a small overhang then finish as for Reach For the Sky.

10
Blindman's Bluff
8
10m

Around the corner to the right, an obvious line to a large ledge and then the top.
UUID:
b67cf4b9-2f97-4dea-bd6d-32813f102b42