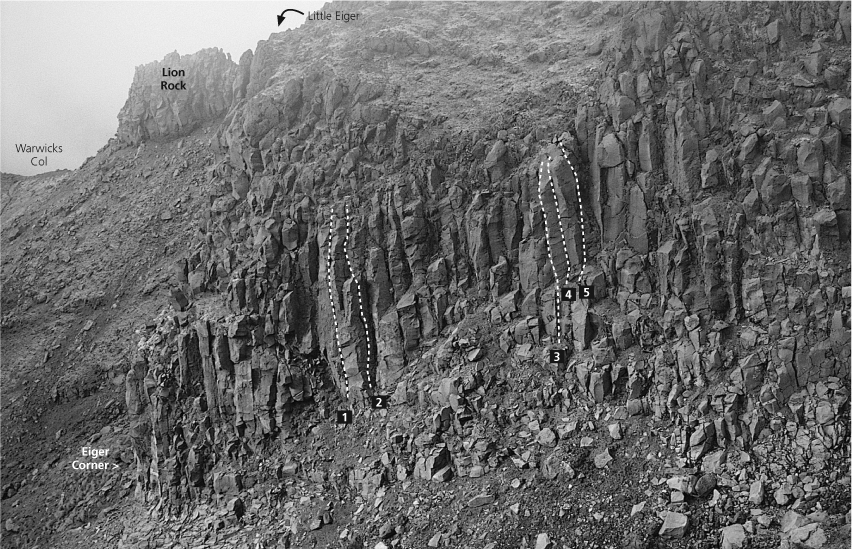 Reference
Title
Grade
Length
Quality
Bolts
Gone
Natural pro
Link to edit content
1
Jet-Stream Hitch-Hike
19
17m

The thin crack around to the left from Arses Galore. Climb crack direct. Well protected.

Lionel Clay, Richard Kirk, 06/04/85.

2
Arses Galore
15
35m

Climb the off-width to the top of the column then the crack above. Nice climbing.

Kevin Conaglen, Pete Swanson, 1982.

3
X President
20
25m

On left of Le Corner on Nose Block. Steep Crack. Friends #2 useful.

Dave Bolger. 17/4/00

4
Le Corner
19
12m

The inviting right-facing corner with the horizontal break at half-height to the left of climb Ode to a Small … The grading is in the style of that adopted by the same first ascensionist at the crag Piarere; a Piarere 19 then may be anything from 18 to 22—who knows?

Bryce Martin (second failed to follow), 07/04/85.

5
Ode to a Small Green Lump of Putty
14
12m

Follow the wide off-width crack right of Le Corner over a chock stone onto excellent belay above.

John Edwards, Pete Swanson, 28/01/81.
UUID:
16dbc149-1cc0-44f0-adb6-8afd0d90e473