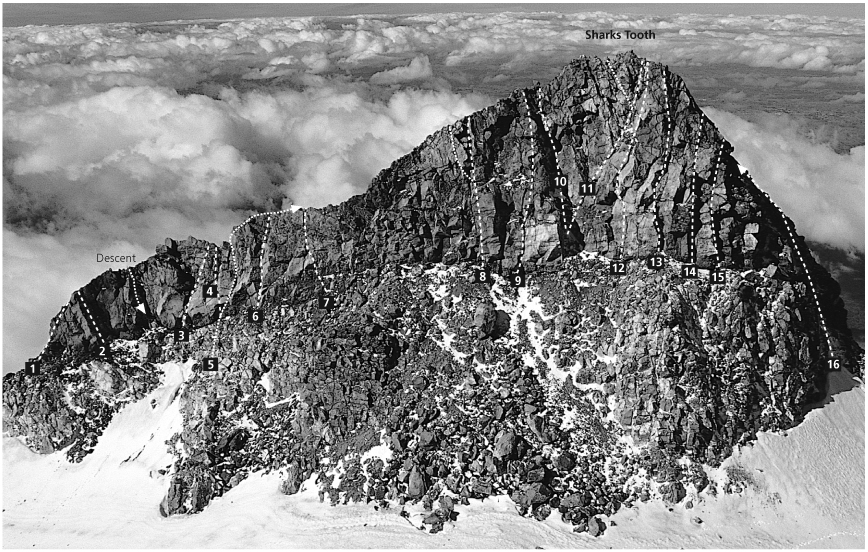 Reference
Title
Grade
Length
Quality
Bolts
Gone
Natural pro
Link to edit content
1
Corner Direct
12
10m

From Surrey Road crater entrance, head directly to Sharks Tooth, climb the blocky corner direct, on the edge of the crater.

Chris Prudden solo.

2
Guidos Crack
14
10m

From corner direct follow scree ledge south around the corner. Climb the clean crack, tend left and on the face to finish.

Chris Prudden solo.

3
Dry route
12
10m

Starts in cleft, blocks and ledges to crater rim at top of Chimney. A good line when the chimney is choked with ice.

Unknown.

4
Outside Chimney
12
8m

A fun variation, with a trick slab move at the start by the chimney entrance.

Unknown

5
Chimney
8
10m

Historically the normal route to climb from the crater to Sharks Tooth. Scramble from the crater or traverse the ledge from Surrey Road entrance. Corner and easy ledges lead to a narrow cleft behind some precariously balanced, enormous boulders. ‡ The cleft can be icy with freezing conditions and impassible in winter and spring, when it can be choked with ice. Fencing wire fixed in place is not suitable for anchors.

Unknown, c.1930.

6
One by Four
13
10m

Follow the scree ledge south from the chimney, to the next corner. The route starts with an awkward mantle, then into a deep corner, move left on small ledges across a slab to gain arete handholds. Finish at rim.

Soloed by Ross Eden, Steve Bailey, John & Mike Hasseling, 1997

7
Point 5 Slab
15
25m

From Chimney follow scree ledge to clean red slabs. Climb the slab direct to start, on balance moves, medium wires. Move left to gain crack, medium cams, and climb crack direct to rim. Great situation and views.

Chris Prudden, Steve Miller, Pip Walter.

8
Two Pieces
15
25m

From Chimney follow scree ledge past very blocky broken ground to a pillar. Climb the large cleft left of the pillar on ledges and bridging (easy). At 15m you are confronted by a bulging headwall. Medium cams at the top of the crack, then move right, and reach high for holds. Finish up easy corner to rap ledge.

Chris Prudden, Steve Miller, Pip Walter.

10
Left-hand Route
12
25m

Better known as a winter route, mixed or ice. Start in the cold corner central on the face, beside the 'fridge' a large square hole on your left. Climb the loose corner, be extra careful at the top.

Unknown.

11
Right-hand Route
13
25m

More recognised as an ice route, but an excellent rock experience. Start as above, bridge the corner under LH route and follow the ledge out right, continue up, plenty of gear if you require it. The corner becomes slightly obtuse, step out right on the face to a small ledge, (crux move). Continue up to the belay shelf then finish to the top of Sharks Tooth, either direct (L) or follow the crack R, with a hand traverse near the top to finish.

Unknown.

12
Sub-Zero
15
30m

Starts on the first buttress south of the R and L-hand Routes. Great parallel, and vertical crack at the start (16), leads on to a fractured slab R, then direct over sometimes awkward blocks to the top. Plenty of gear if you want it.

Chris Prudden, Craig Thomas.

13
Zero Buttress
15
25m

The most direct and interesting route on the face. Starts on top of a scree ridge 10 m right of Sub Zero. Nice vee corner to begin, leads to an excellent fractured slab R tending under an overlap. At the top of the slab move back left (crux), surmount the overlap, then direct up steep blocky finish, watch out for loose rock here.

Dave Bolger, Chris Prudden, Glen Aspin

15
Screamer
14
15m

From Zero follow the ledge south almost to its termination with the southern aspect. The route starts on an attractive slab with a dominant crack right. Above this several ledges lead you right and under a big block (crux), body smear the block and continue to the South Ridge.

Chris Prudden, Lee Drew.

16
South Ridge
8
70m

Starts in a frozen snow tongue, just inside the crater entrance of Teds Alley (An ice axe can be handy to cut steps). Move right up a blocky corner and ledges take you to the south ridge. A blocky scramble up the ridge, then move left out around a ledge (crux grade 10—exposure) and finish the last moves on the western aspect to the top of Sharks Tooth, there are many variations. Finish with a complete traverse to the north and down the chimney or Surrey road.

Unknown.
UUID:
e8c2d528-14bd-405a-9688-5badc8a2f7fb