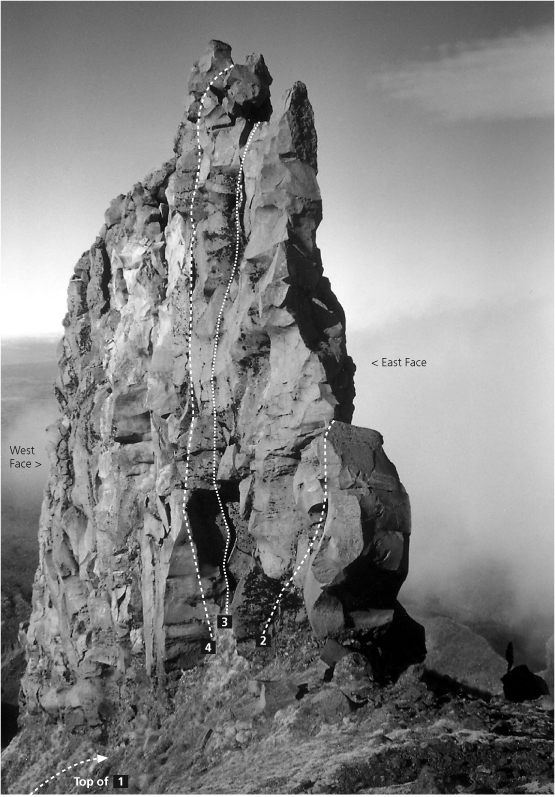 Reference
Title
Grade
Length
Quality
Bolts
Gone
Natural pro
Link to edit content
4
Coming Through
16
25m

Starting as for Taos Tonic turning the overhang by moving left onto the arête. Continue left and up emerging close to the highest point on the Castle.

Geoff Blake, Kevin Conaglen, 14/02/82.

3
Taos Tonic
17
21m

Found just down from the Nose on the western side of Humphries Castle. Climb a wide crack to an overhang; move straight up over the overhang and climb the crack above.

Geoff Blake, Kevin Conaglen, 14/02/82.

2
Sliders in the Sun
17
10m

On the west aspect of the Nose, climb right from the low rock shelf over a slab and up a steepening crack to Nose platform.

Chris Prudden, Dave Bolger, 1999.

1
Shannon's Ladder
5
25m

This climb finishes at the Nose of Humphries Castle and is a good wide descent route to the lower tier of bluffs on the western side of the castle. The route angles down and to the north steepening towards the bottom. Loose rocks exist at the top. The first ascent was soloed by Shannon Eden, age 8.

Shannon Eden (solo), 07/10/94.
Places
Type
Title
Link to edit content
Crag
Hidden Wall

(1 route)
UUID:
4802375e-b8f0-4f95-88c6-a4e9207dd8a7