Lynn Hill Bouldering
Lynn Hill Bouldering
(0 routes)
This little gem of an area was discovered by Nathen Tierney and his family on a trip out to Waihea Falls. Although it is not a large climbing area, it does offer a very good selection of quality boulder problems on excellent rock. The landings are mostly flat and grassy though having a pad, a good spotter and a poo tarp are recommended. The view from the boulders is quite nice as well, especially if you stay there through until sunset. Unfortunately, due to the fact that it is on top of a hill, it does get a bit windy at times.
Access:
Go to Danivirke, the viking capitol of New Zealand (?!?), located along State Highway 2. From the center of town, turn down Miller St. (the turn is on your right if coming up from the south, across from the BP) and drive for 20 km. On the left-hand side of the road there is a clearly visible group of boulders that are a mere 5 minute walk uphill. This is the spot! There are 3 buildings, the correct driveway to drive up is between the wool shed (middle building) and the well landscaped house on the right. Parking is located next to the wool shed.
The "trail" heads up through the 2 gates on the left and then more or less straight up the hill towards the boulders. Lynn and Ian Hill are the owners of the property and are happy to have people come and climb on there rocks, so please don't ruin it for others. It has been requested that if you plan to climb there, please call in advance. Their number is (06) 374 2819. If they do not answer, leave a message with your name and a mobile contact number in case they, for some reason, would prefer people NOT climb there that particular day. Also, as that there house is so close, please try to keep the language appropriate. We all yell while climbing, sometimes out of excitement and sometimes out of rage, but please try to be respectful of the fact that this is their home.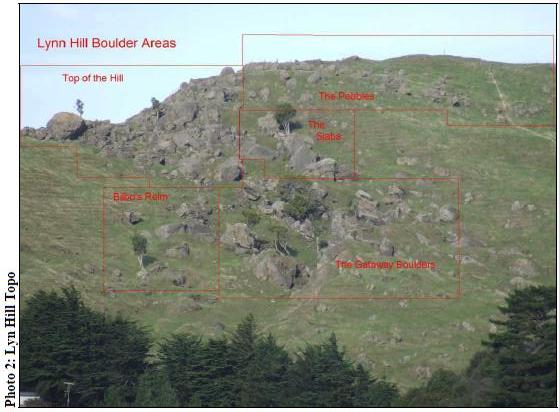 Attribution:
Hosted on www.freeclimb.co.nz Written by Matt Natty
UUID:
c594e927-70ec-4e04-a43c-7ca98a4a0fef