The climbs start off a large ledge which is accessed via either Proximity Infatuation or Safety in numbers.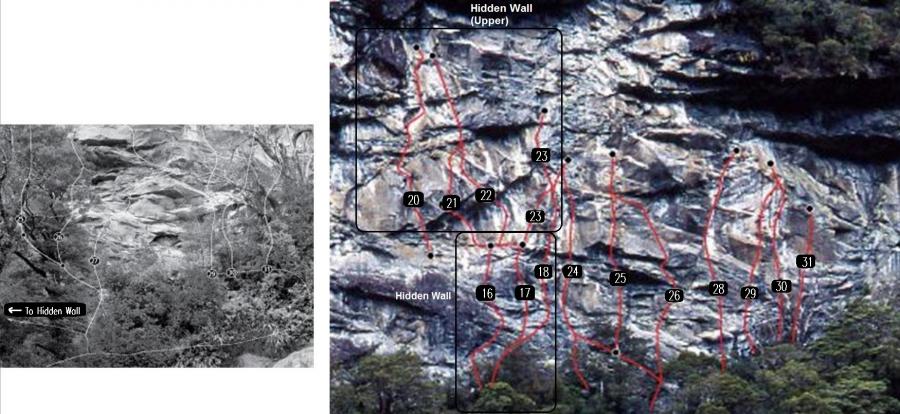 Reference
Title
Grade
Length
Quality
Bolts
Gone
Natural pro
Link to edit content
The unknown
23
18m

18m. Bolts, wires and small CD's. From the Belay of GA hand traverse left then mantle up in to the large corner. From the top of the corner move right and up, crux. Steep laybacks lead to more moves right then up to a ledge and belay.

Paul Rogers, Steve Walker, Apr 1993.

20
Groove Armada
23
29m
9

The easiest way to get to a good belay for Groove Armada is for the belayer to clip the first bolt of JR and traverse left to the first bolt of GA. Clip this then lower to the belay ledge. Fantastic climbing up a series of grooves, to the very top of the crag.

Paul Rogers, Will McQueen, Nov 2002.

21
Jon's Route
26

Steep cranking through roof then delicate face climbing above. Barn door hell!

Jon Sedon, April 2002.

22
Tardomania
26
20m

. bolts, wires and CD's to#3. This open corner, roof and groove line was originally an A0-20 but has since been freed with a direct start straight from the belay.

Bolted by Mark Sedon, April 2002.

23
On the Prow
24
12m
5

five bolts #1-1.5 CD. This climb starts off the right-hand end of the ledge. Use the CD to protect initial moves off the ledge. Climb the blunt prow through a small overlap moving left then up to the belay. Sustained and pumpy

Paul Rogers, Jon Sedon, Nov 2002.
UUID:
bf1b8dc7-34c8-4959-ba72-27d5a92ed0b9