History dates vague attempts at this crag as far back as 1977 by Roland Logan and Galen Rowell.
Access:
Located 150m above and left of the Bog Farmer slabs, the rock is well featured and vegetation sparse. The most obvious feature is a sickle-shaped crack in the centre of the face.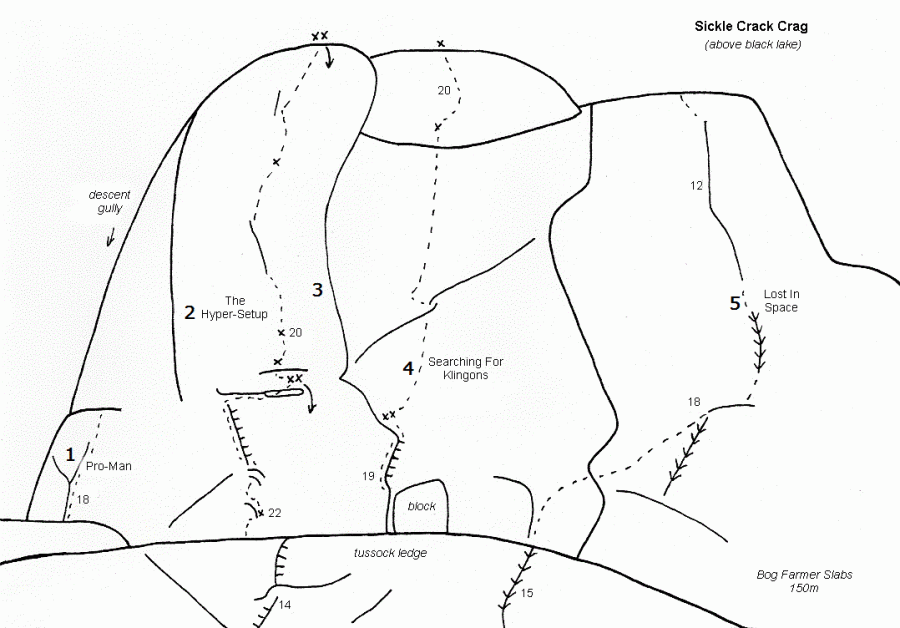 Reference
Title
Grade
Length
Quality
Bolts
Gone
Natural pro
Link to edit content
1
The Pro-man
18

Bruce Dowrick, Dave Vass, Jan 1990.

2
The Hyper Set-up
22

Three pitches. 14, 22, 20.

Colin Pohl, Dave Vass, Feb 1990.

3
Sickle Crack
17
1

The Sickle Crack is a little mossy, but well worth the journey.

Roland Logan, Galen Rowell, January 1977

4
Searching for Klingons
20

Two pitches. 19, 20.

Mike Dunn, Dave Vass, Dec 1989.

5
Lost in Space
18

John Owen, Hugh Widdowson, 1989.
UUID:
85927900-8e95-40ae-a63e-06f59cb850e7